On this page you will find an assortment of scooters I have owned over the years...most pictures will be scanned photo's...one or two may appear in depth on other pages...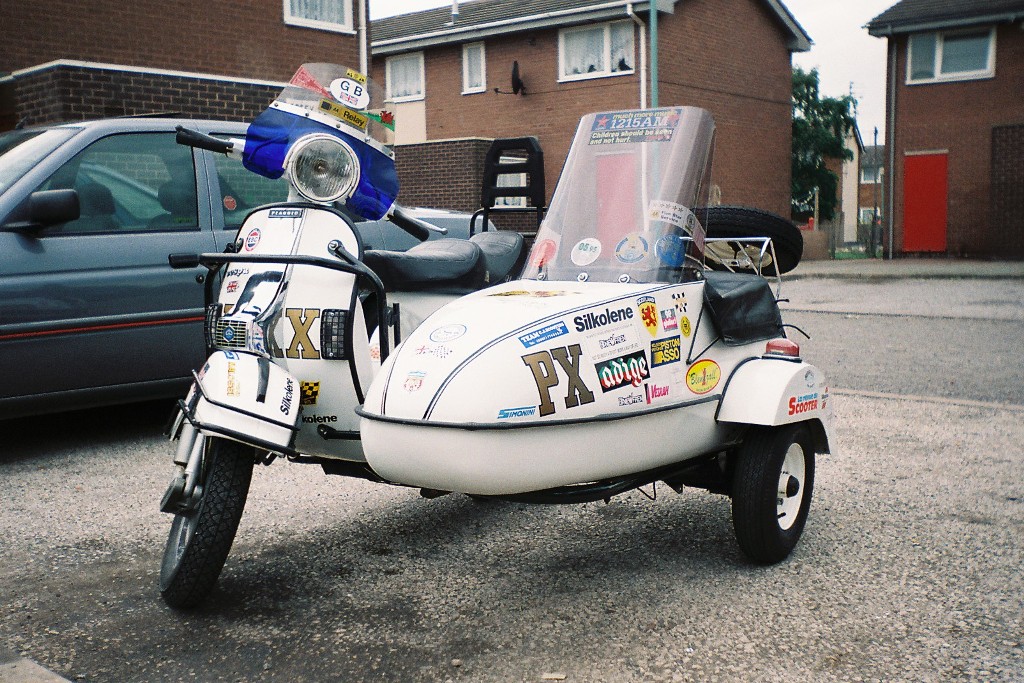 an excellent photo of my PX & sidecar taken in 1994...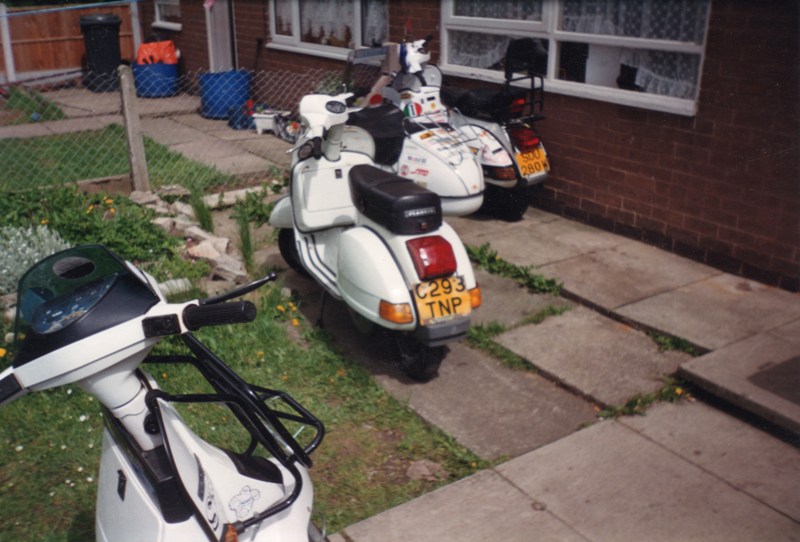 in the foreground is my trusty T5 which was later done in orange...the "C" reg is a PX200E that I swapped an Indian "series 2" Lambretta for...the PX and sidecar needs no introduction...I took the 200cc engine from the "C" reg and fitted into the sidecar...a spare T5 engine was fitted into the "C" reg...I can't remember what I did with the "DR" kitted 125cc engine that was in the sidecar!!..
this isn't the aforementioned white T5 this is a "J" reg write off I bought from "Woods Motorcycles" in Wednesfield...it was originally blue...I have this passion for the colour orange...picture from 1994...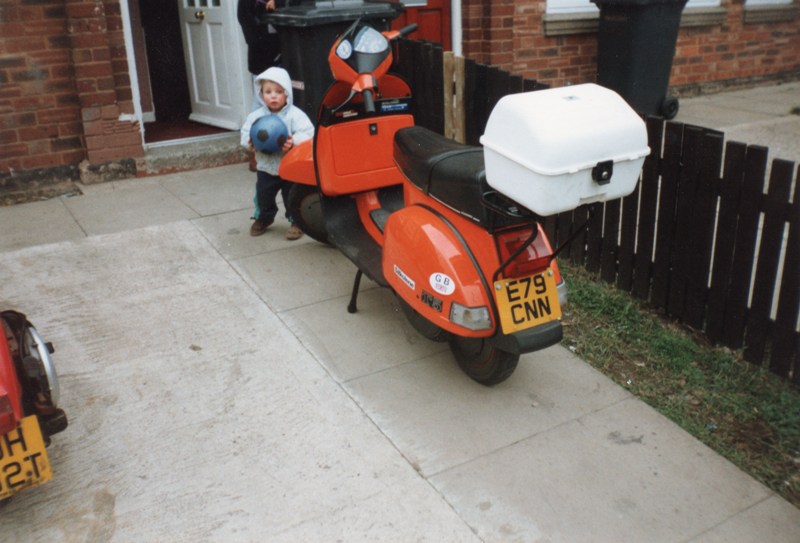 second of the orange T5's...this is the scooter that I made the journey to EuroVespa 96 on...Marvin at 2 years old already showing an interest in football...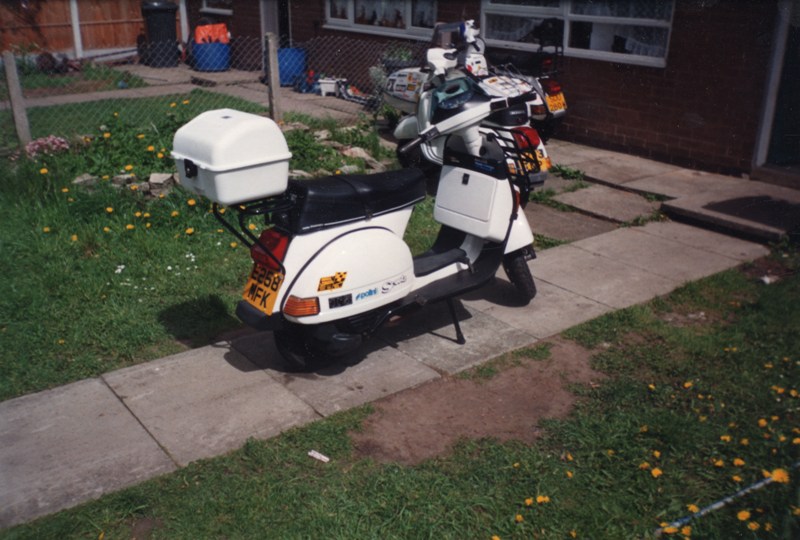 this T5 was the forerunner of the orange T5...the reason they have different registration numbers is easily explained...I reframed it after the white frame rotted...everything except for the frame came from this scooter...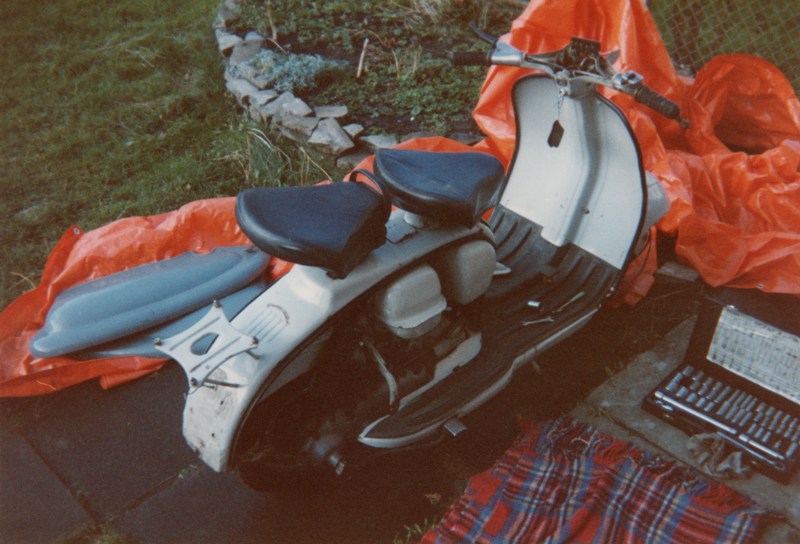 this is the last running Lambretta I ever owned...the aforementioned Indian "series 2"...it was put up for sale after it broke down on the M6 on Christmas day...this photo was taken while I was sorting a wiring problem out...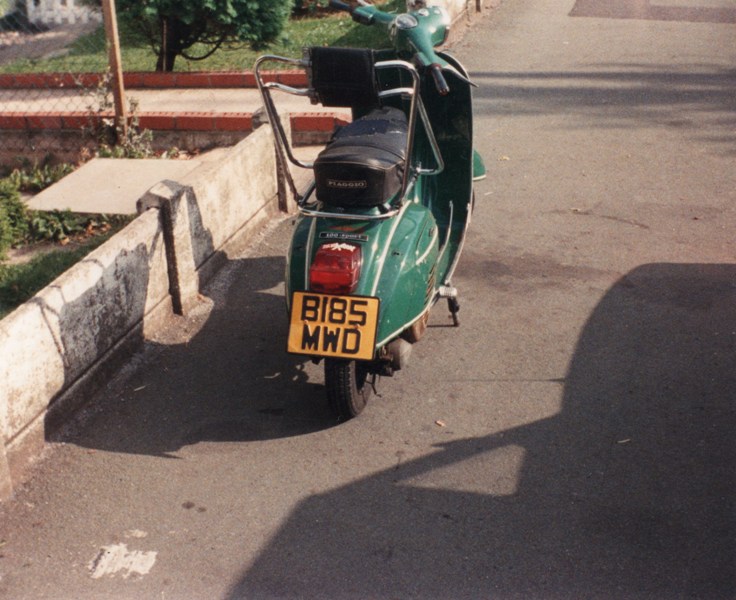 an infamous Vespa 100 Sport...made for the American market at the time the 2 stroke laws were changed over there...wouldn't run on a rainy day...weird choke lever assembly...total piece of shit...not worth the £80 I paid for it back in 1988ish...Dave Green had a blue one...his broke down on rainy days too...stupid indicators have been removed...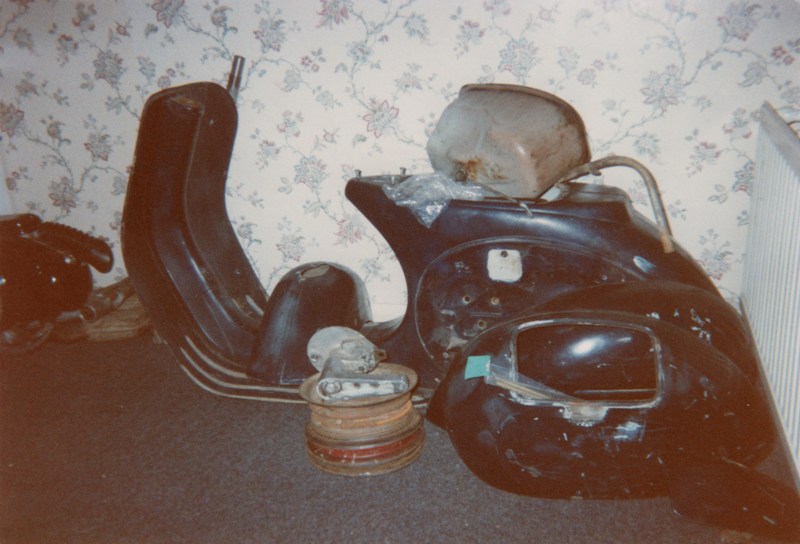 early 6t's Vespa...can't remember which model...you can just make out the rebuilt engine to the left...this is about as far as I got with this restoration...moving back to the Black Country from Crewe forced me to sell this...Archie Tudor bought it for Beth...picture from 1993...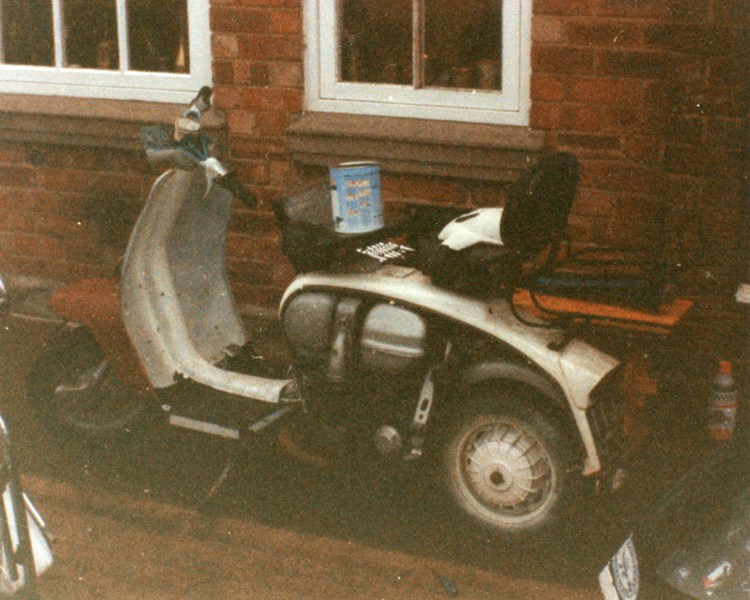 Lambretta LI150...another one I started to restore and lost interest in...I think the reality of it being another bottomless pit of funds struck home...I'm sure it was totally stripped when I sold it...picture from 1996...crap photography!!..crap camera...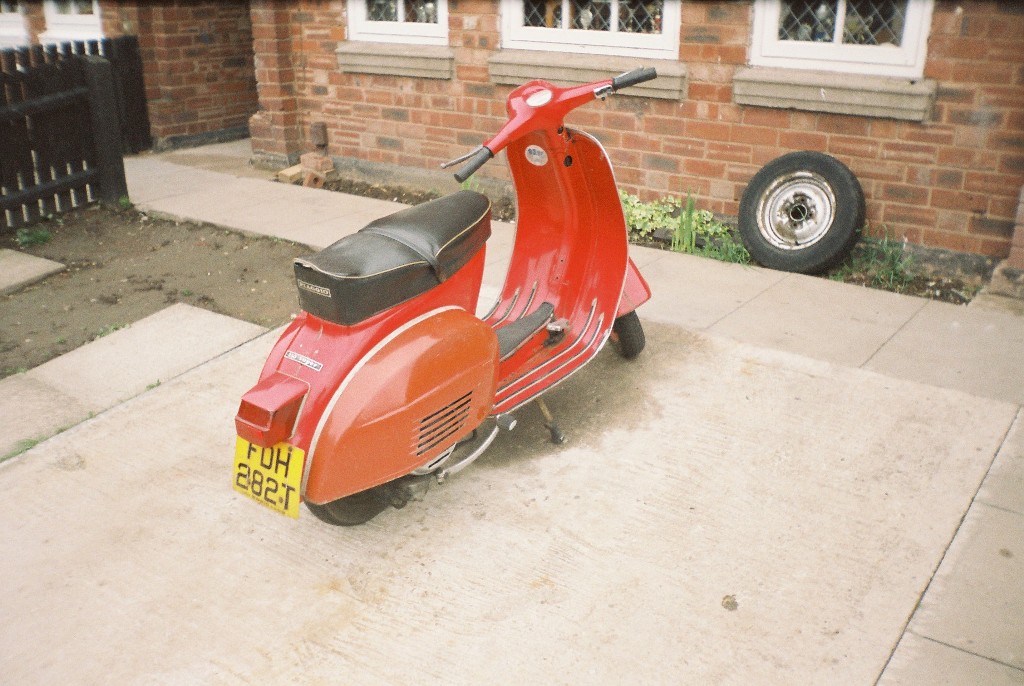 I bought this at some stage in 1996...it was minus the engine side sidepanel which is why it is a different colour red...Perry's took it part exchange on the green PX200E...who sold it to a mate of mine who wasn't interested in it when I had it for sale!!..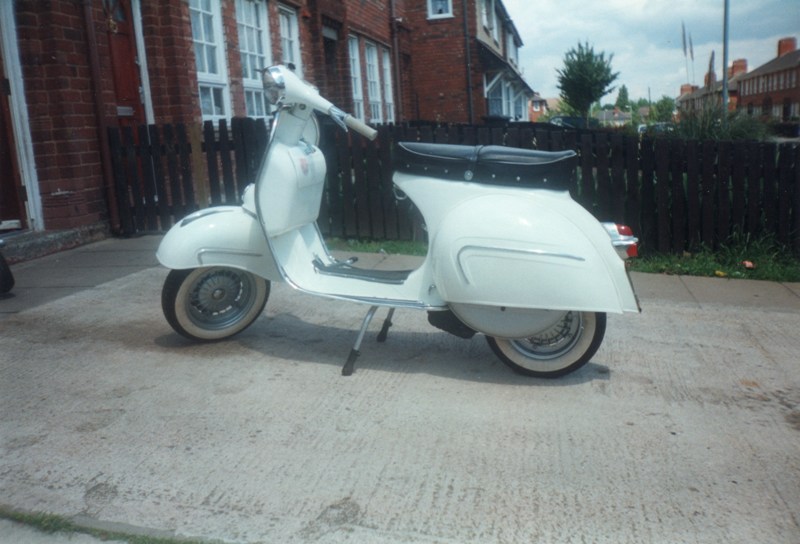 my GS160 MK2...this is featured elsewhere on this site but I found some actual photographs so I thought I would scan one of them...I bought this restored...I use the term restored loosely...cosmetically it was brilliant...mechanically it was crap...knackered shockers...knackered engine mountings...knackered carb...etc...etc...I couldn't wait to get rid of it...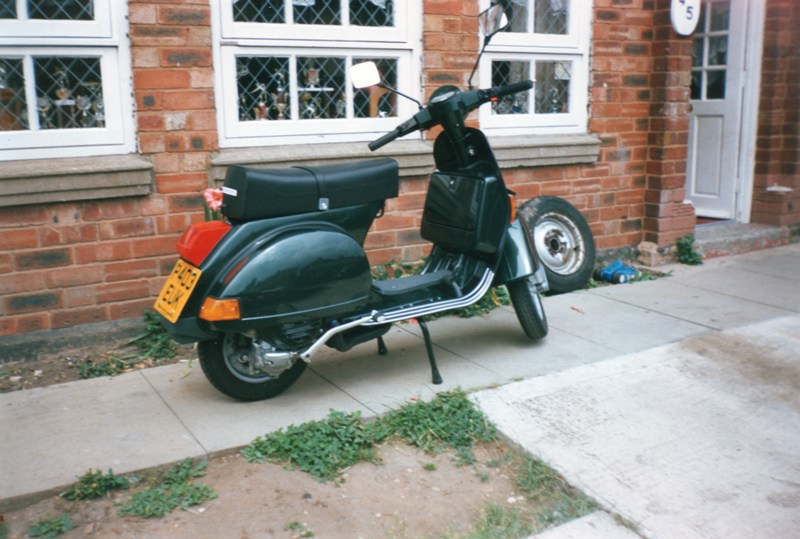 look how good this looks...just got back from Perry's with it...less than 10 miles on the clock...exhaust is still black and it still has the mirrors on it...August 1st 1996...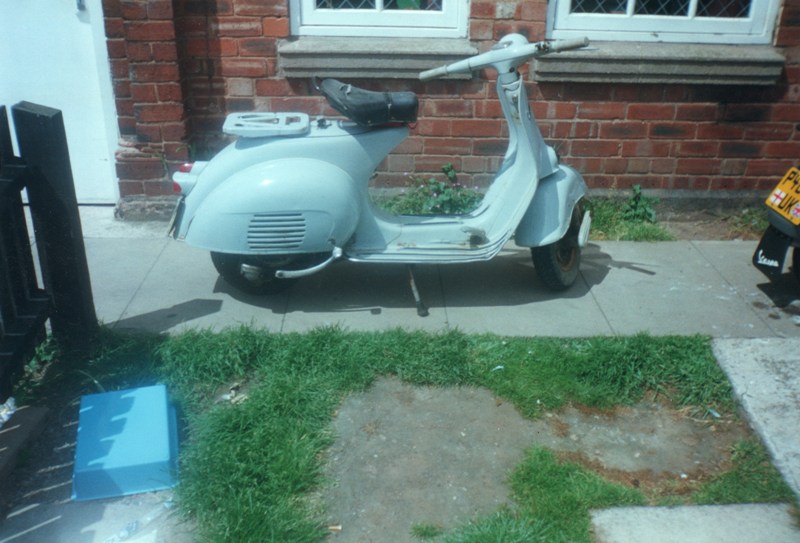 I was given this...ran well...didn't always start first time though...what do you want for nothing!!..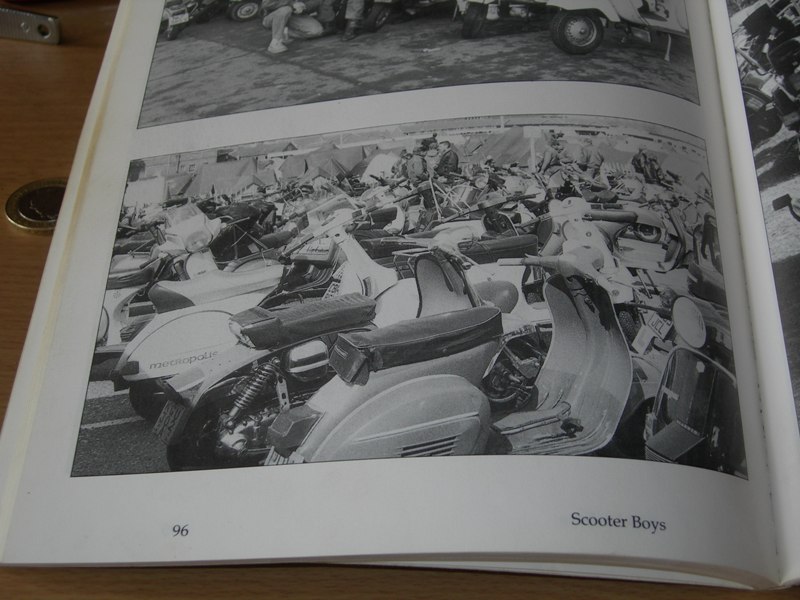 page 96 of the book "Scooter Boys"...the Vespa 150 Super you can see at the front was mine...you can just make out the first three letters of the number plate "PDH 737M"...the ripped seat is also a give away...check the photo below...photo taken at the Great Yarmouth Scooter Rally 1987...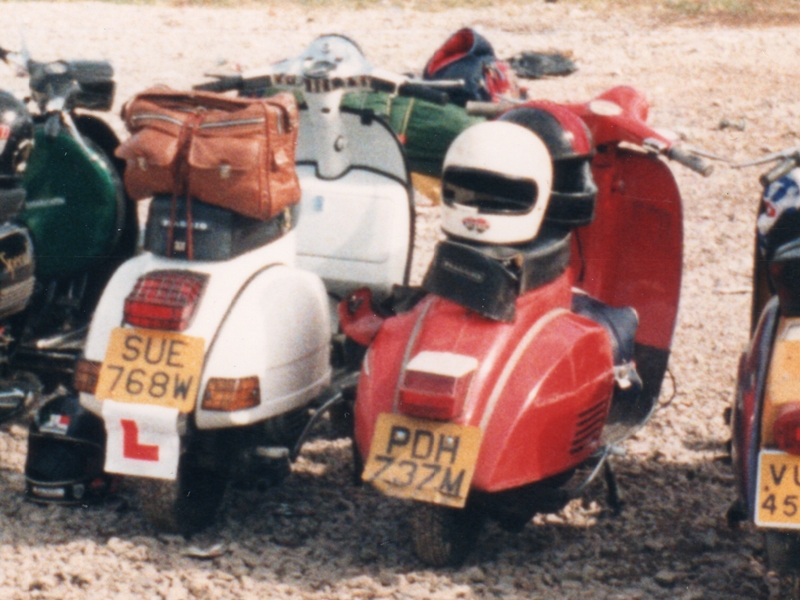 Weston-Super-Mare this time...still 1987...the white PX is also mine...I loaned Dave Green the 150 Super for this Rally as his Lambretta was off the road...nothing new there...the P200E I bought in bits (which he forgot to mention when I gave him the £90 he was asking for it!!) from Dennis Merrick...had it shot blasted...resprayed and rebuilt in nine days...the 150 Super I bought from Danny Gleeson...it was stolen when Dave Green parked it in some badly lit back street late at night without a steering lock on!!..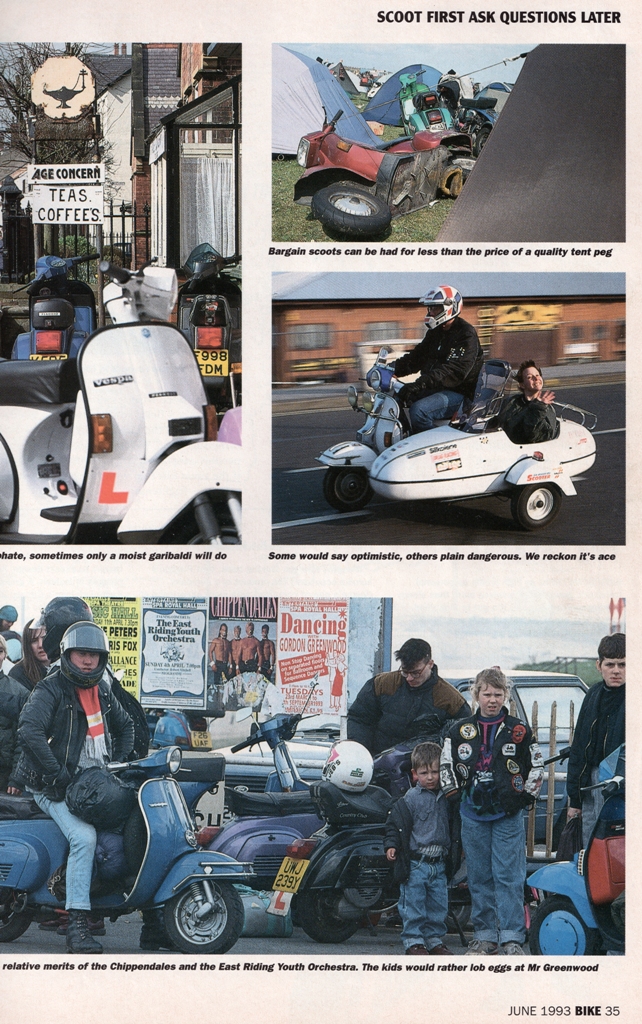 been in the attic again..."Bike" magazine from June 1993...it looked like the bikers were having trouble filling pages in one of their monthly mags so they decided to converge on the Easter Scooter Rally at Bridlington...as far as I can remember this was the first time a bike mag had done a big feature on scooters...the article did start with a fair amount of sarcasm...that's me and the ex on the combo...