this is the scooter that I've used for work every day since I sold the Hexagon...photo's 7th August 2022...I did however use one of my PX's during the winter period of 2021/2022 while I was doing an engine rebuild on it...
the guy I bought it off in 2016 said it would lose power after a couple of miles...it was losing power because it was seizing...on closer inspection there were parts missing from the autolube system...brakes weren't working so a complete new hydraulic system & shoes were purchased and fitted...new clutch plates were also fitted as it was jumping forward when engaging 1st gear...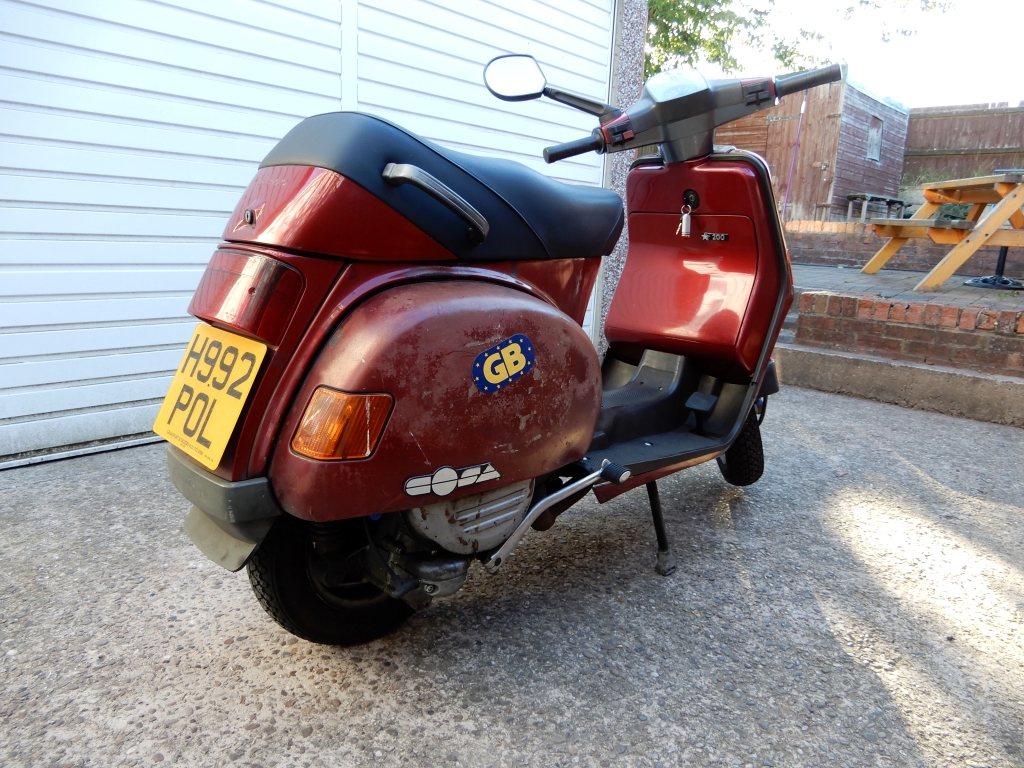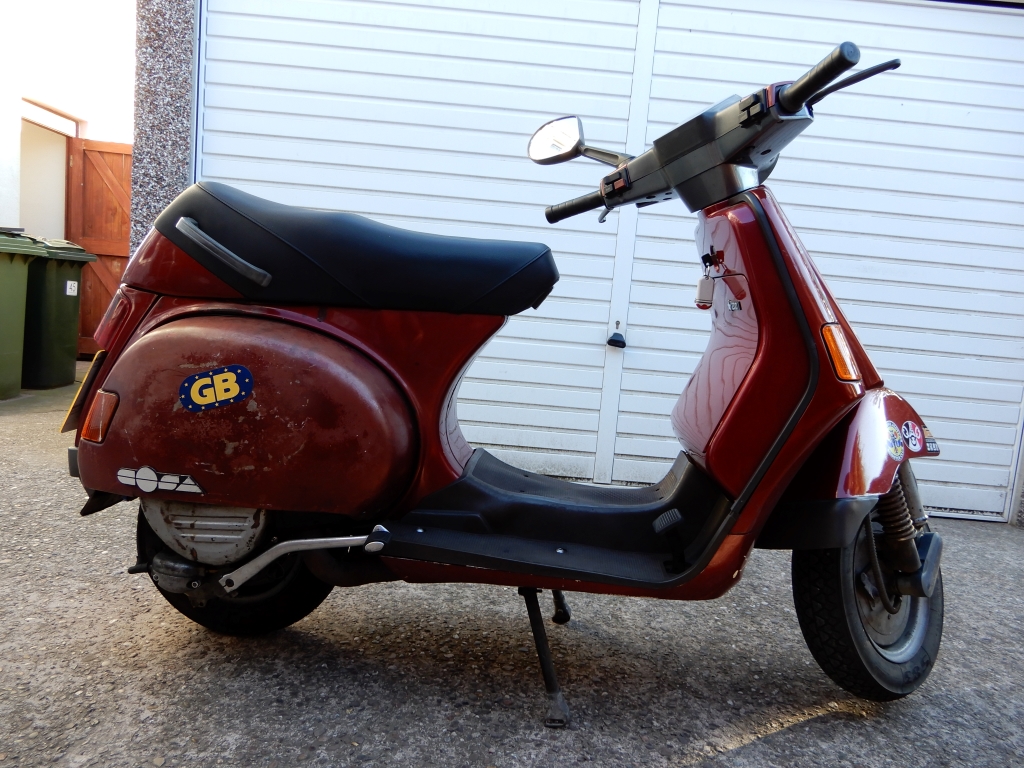 grey headset bottom explained further down the page...the floor mat lugs were all broke so I decided to bolt them down...I think they look cool...
not one lug on the spoiler was intact...using a product called Miliput I executed a perfect repair...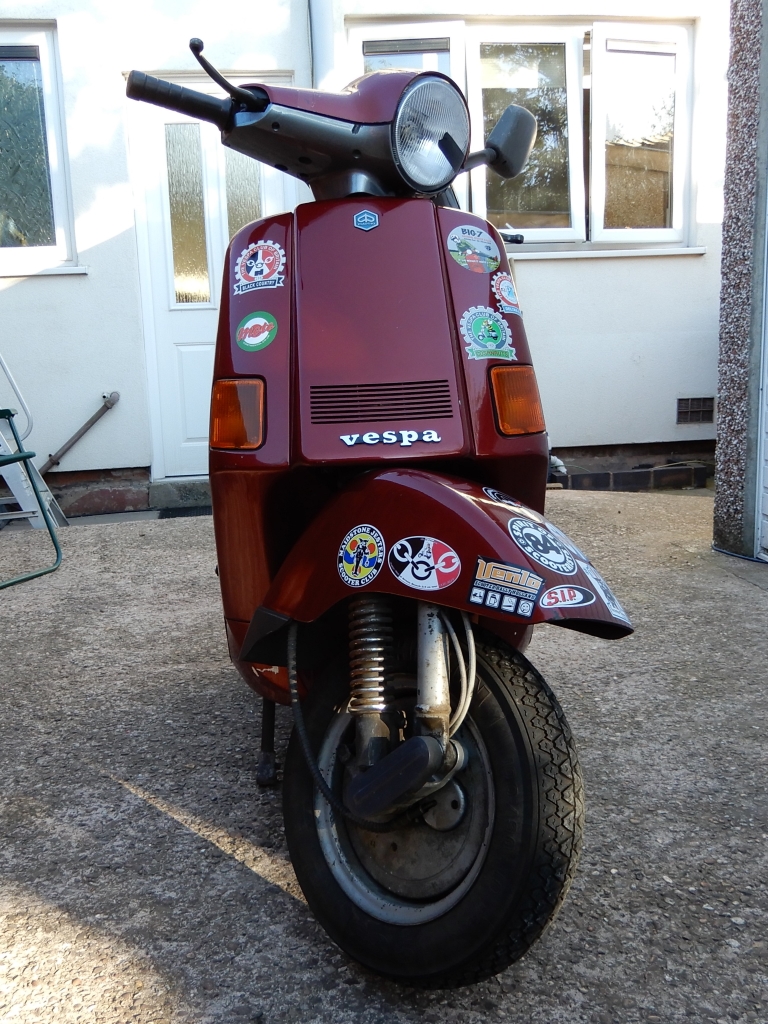 the stickers are holding the fiberglass mudguard together...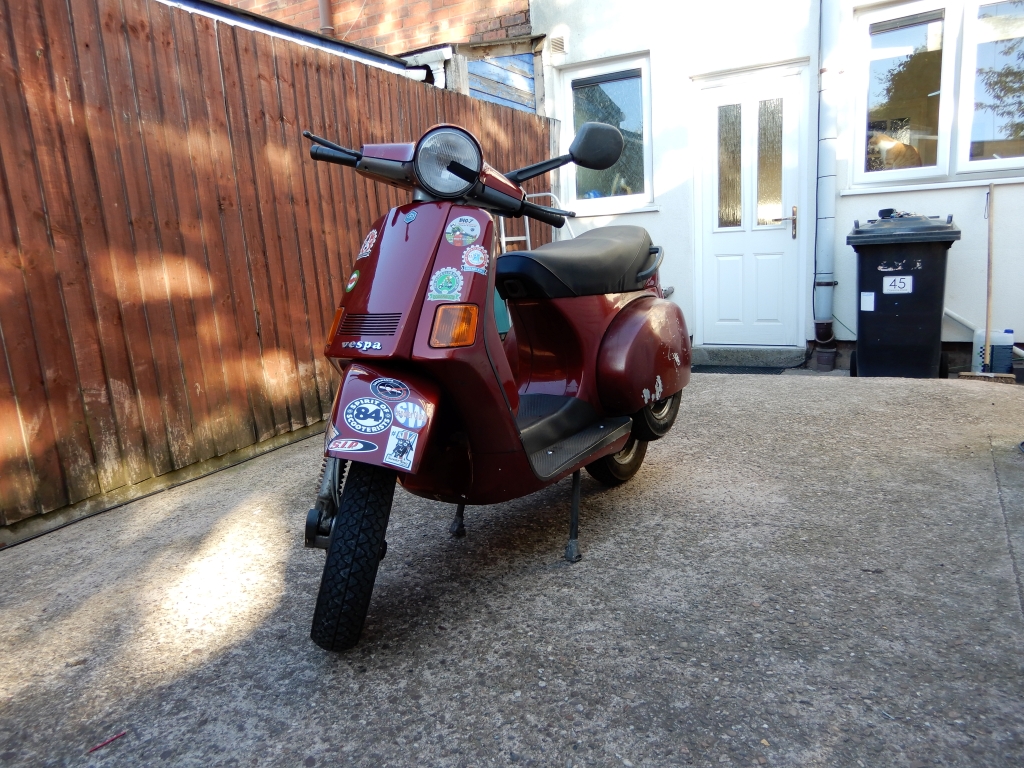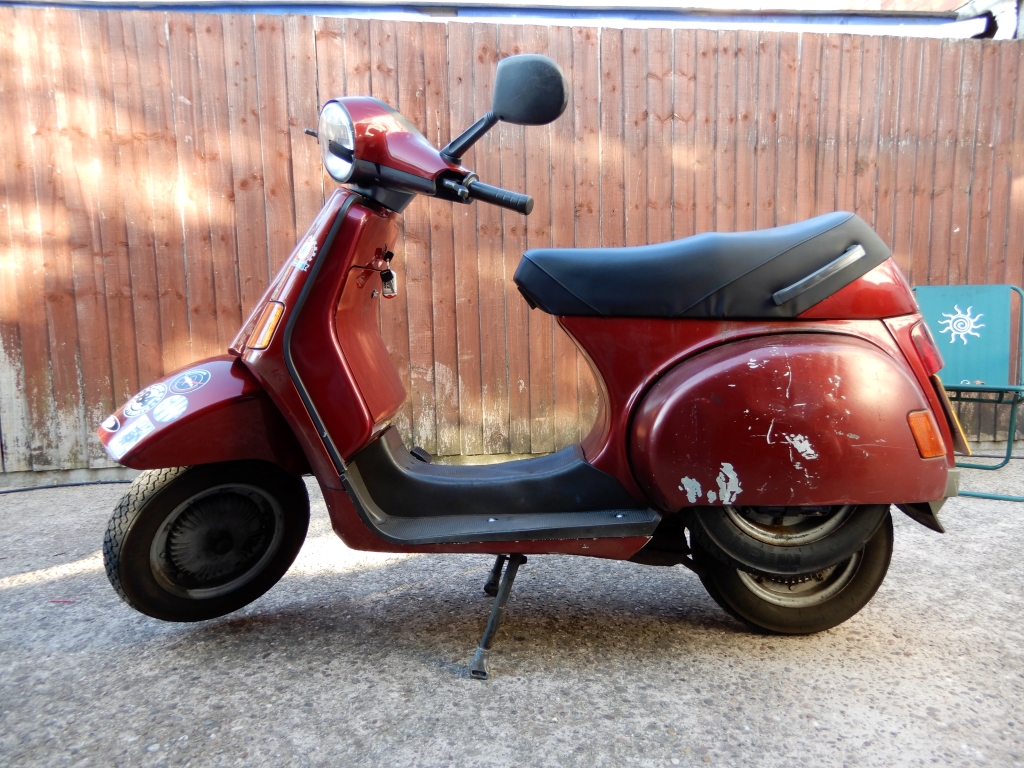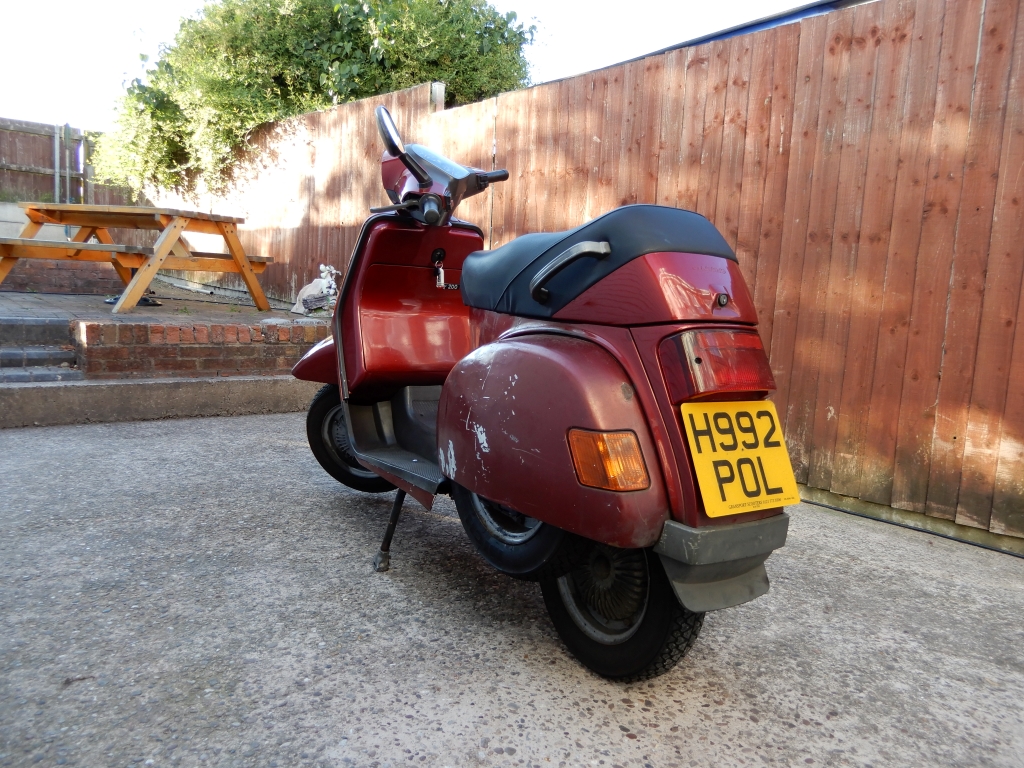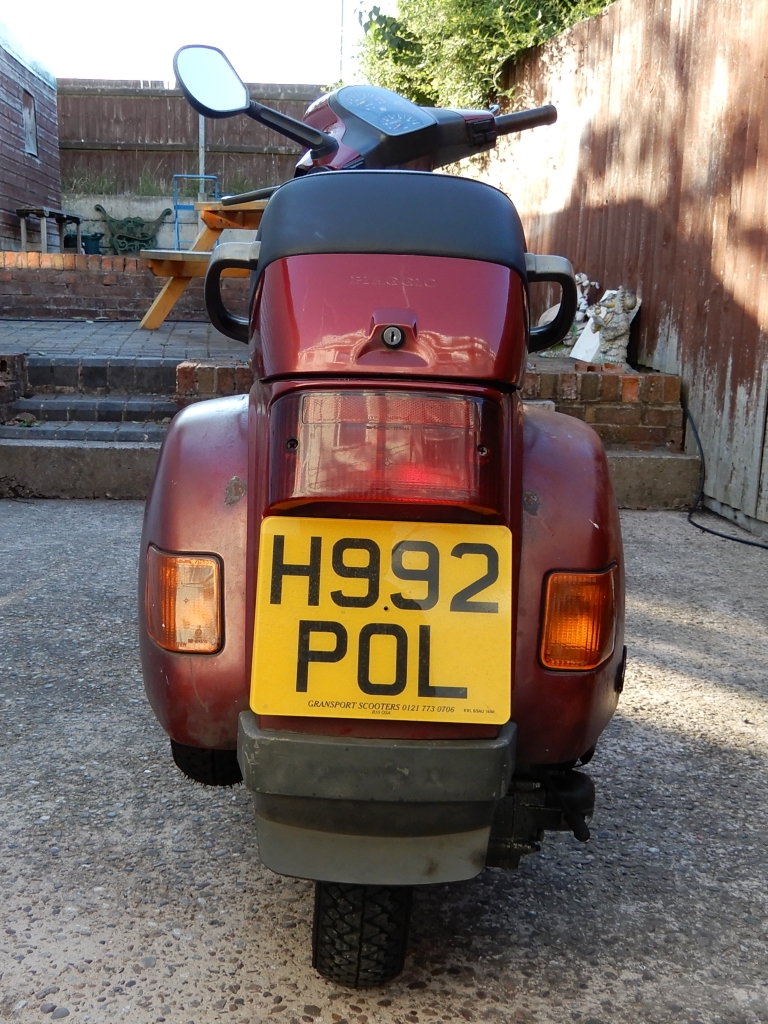 from here on in is work done on it from November 2021 until around April 2022...and further down the page the rest of the work I've done on it since buying it...
this all started when I put it on the ramp to tighten up what I thought was a loose rear hub nut...how wrong was I!!..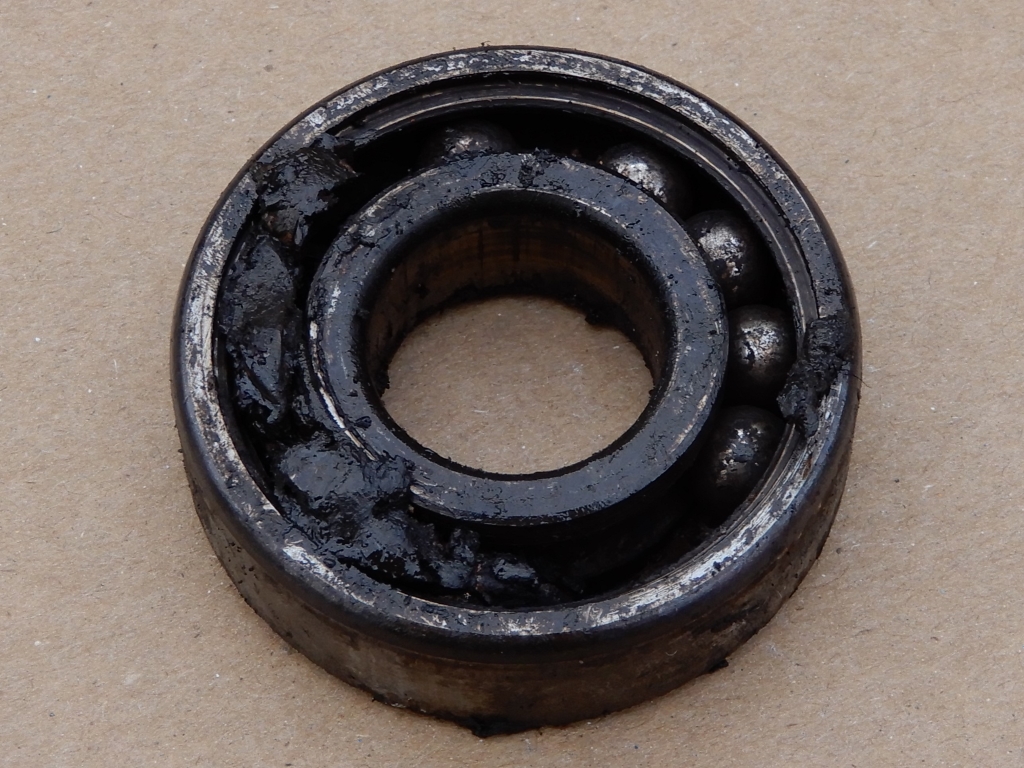 this was the real cause of the rear wheel wobble...not the first time I've had to replace a Cosa rear wheel bearing...
I've got ahead of myself a little bit...prior to removing the bearing there was a lot more stripping to do as I'd already removed the barrel and piston to see what damage previously seizes had done to them...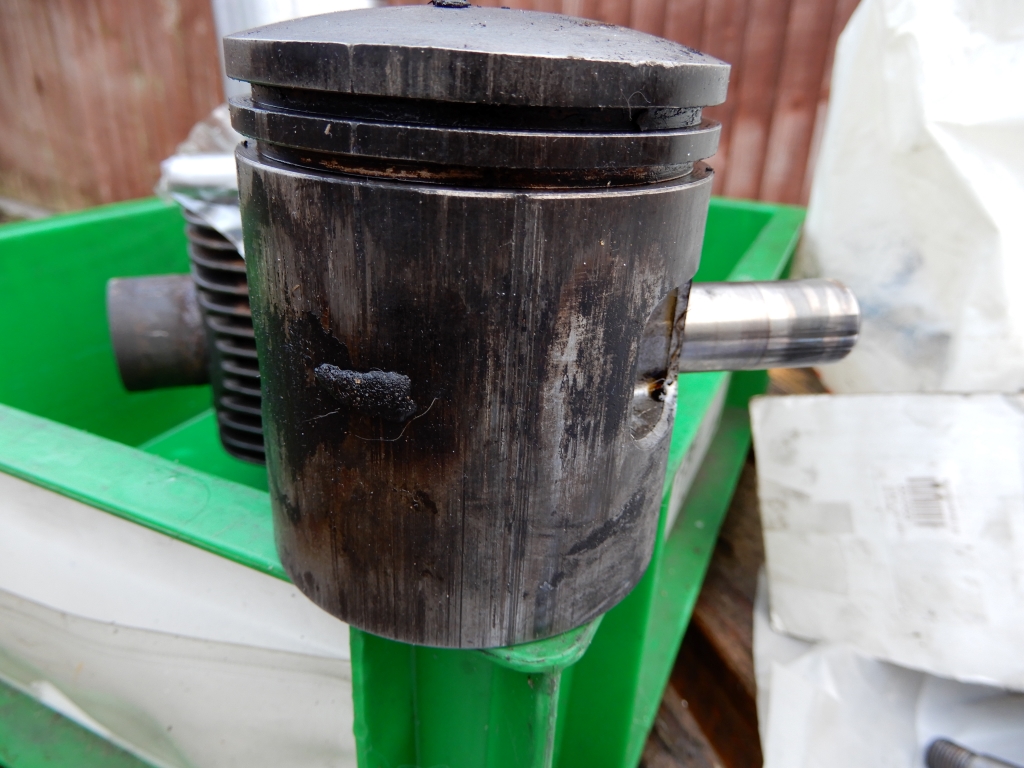 yep...knackered...amazed it was still running...noisy but running...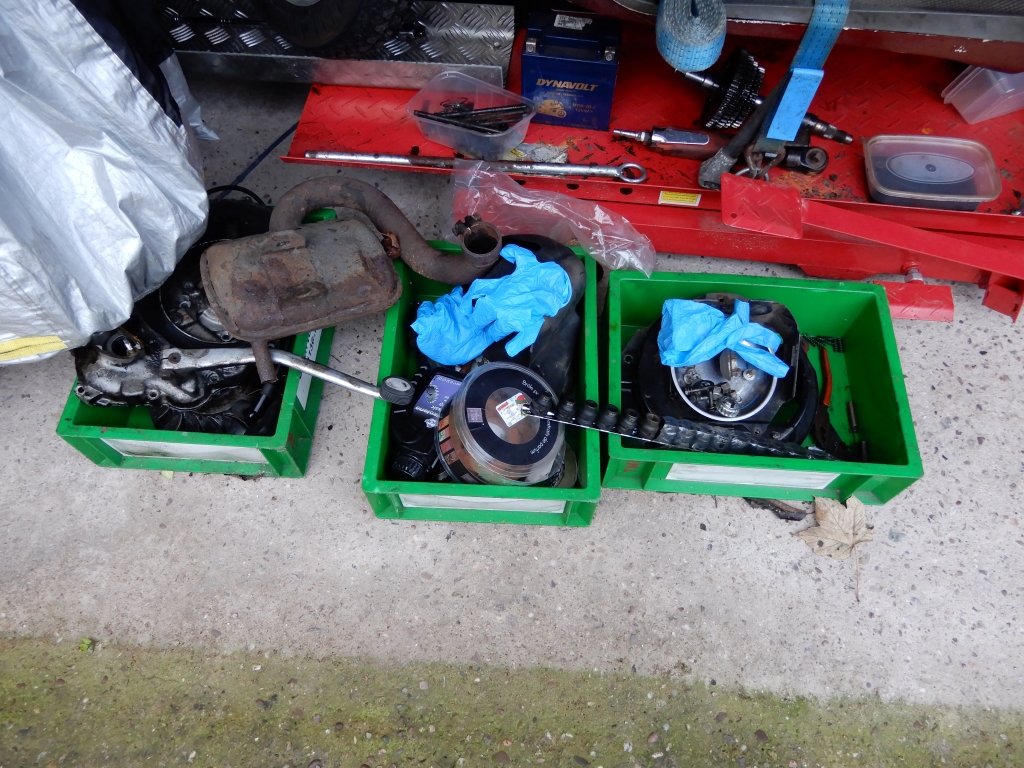 I'm off work for 10 days with Covid (no symptons) so I may as well make the most of it and strip the whole thing down...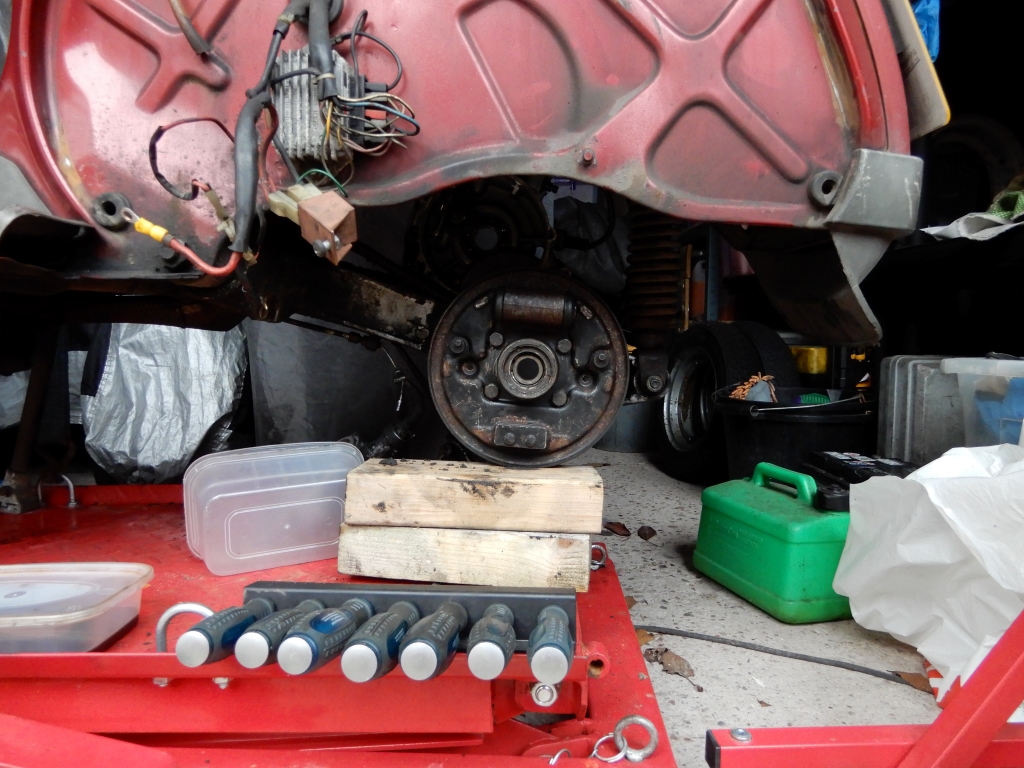 not there yet...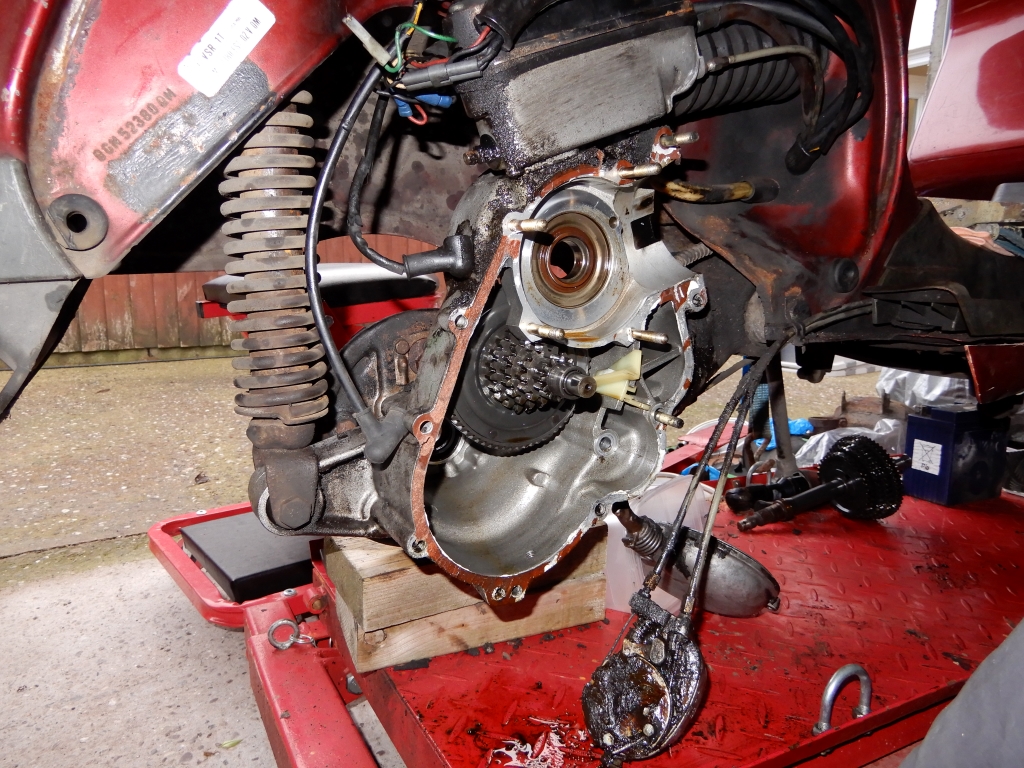 I got to this stage by about Christmas 2021 but it took until April 2022 to actually remove the casings from the frame...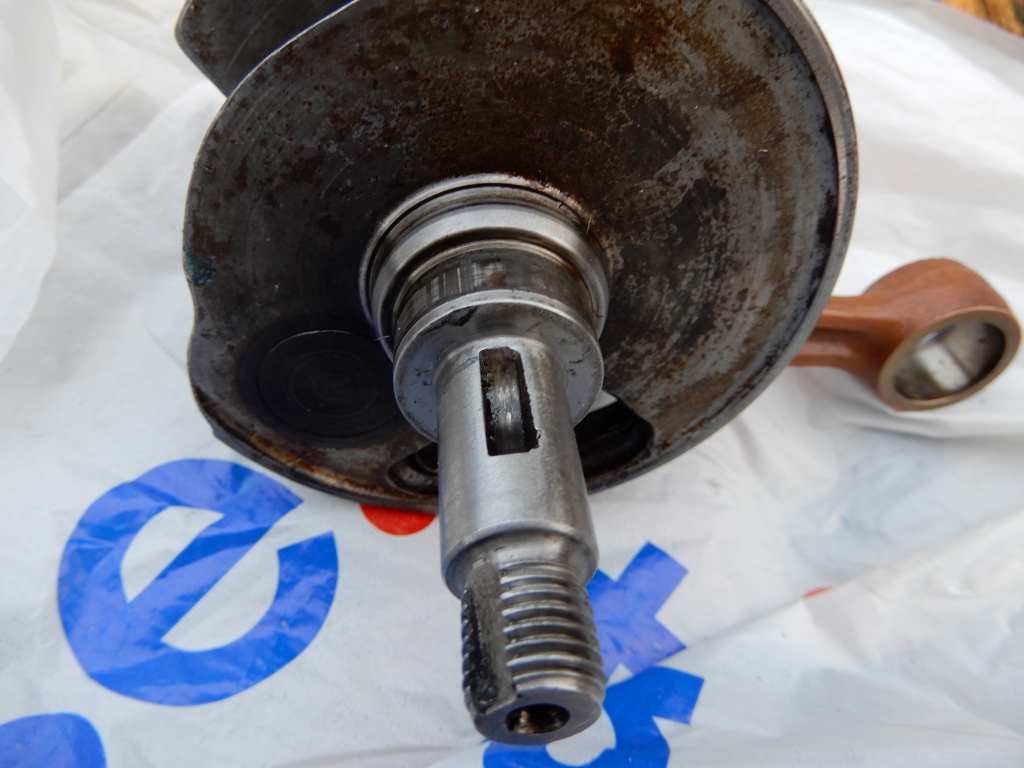 this was f*cked too...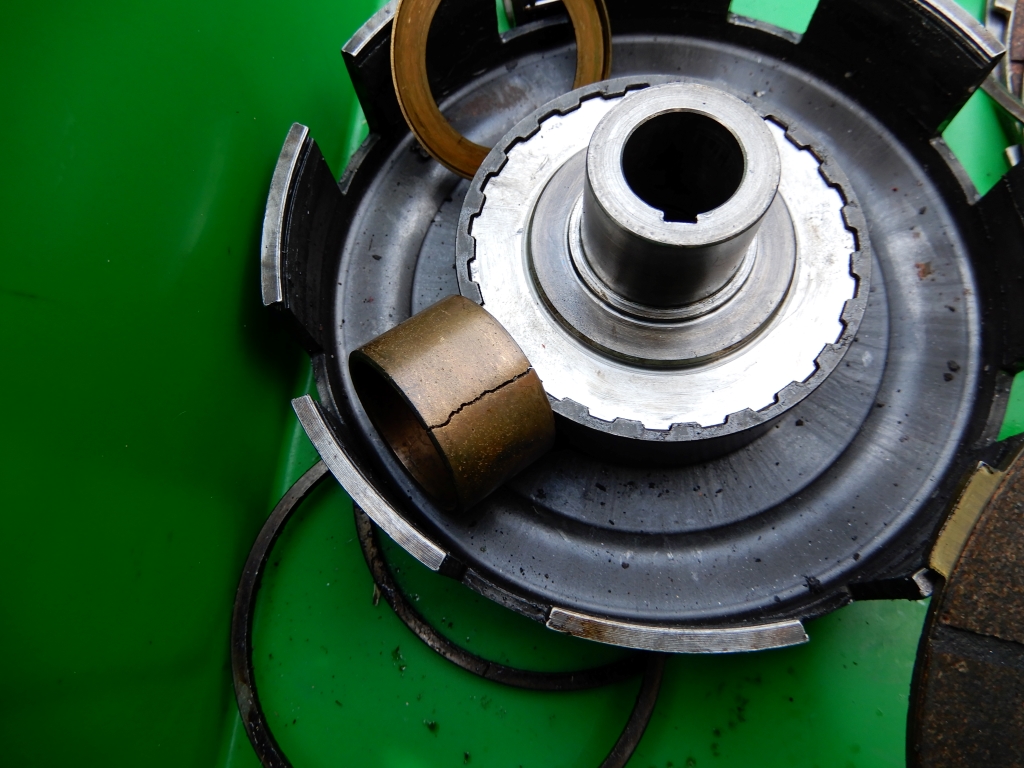 clutch didn't look too good considering the plates were one of the first things I replaced when I bought the scooter...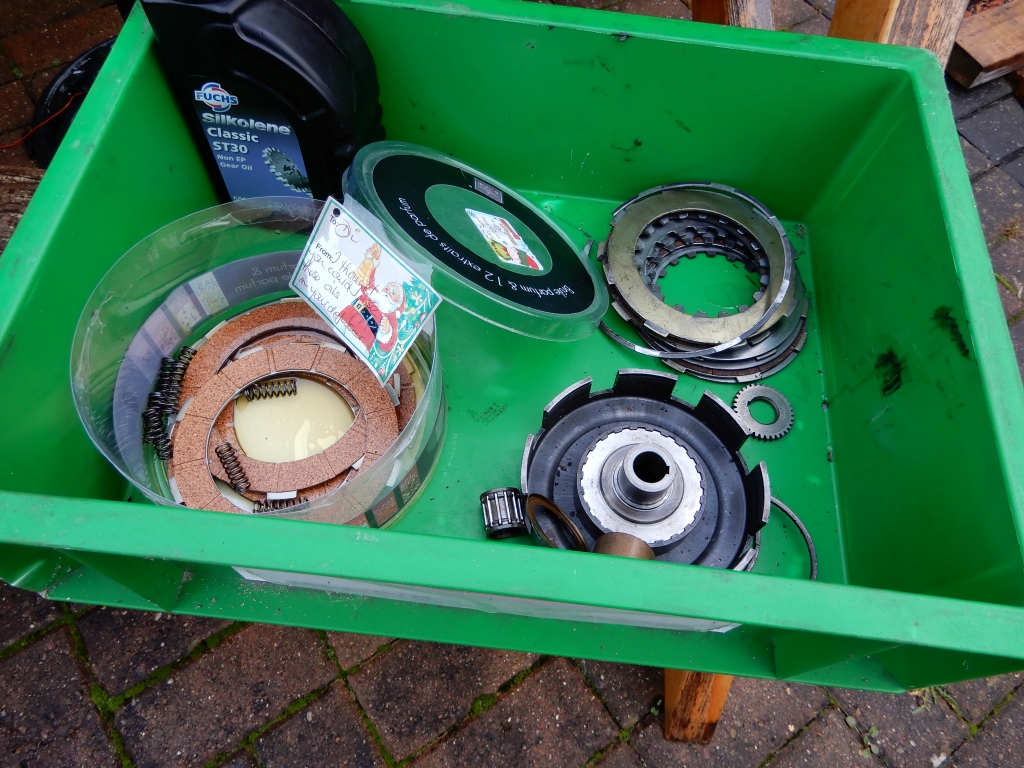 as you can see I'd already bought replacement clutch plates...I now need to get a few other bits...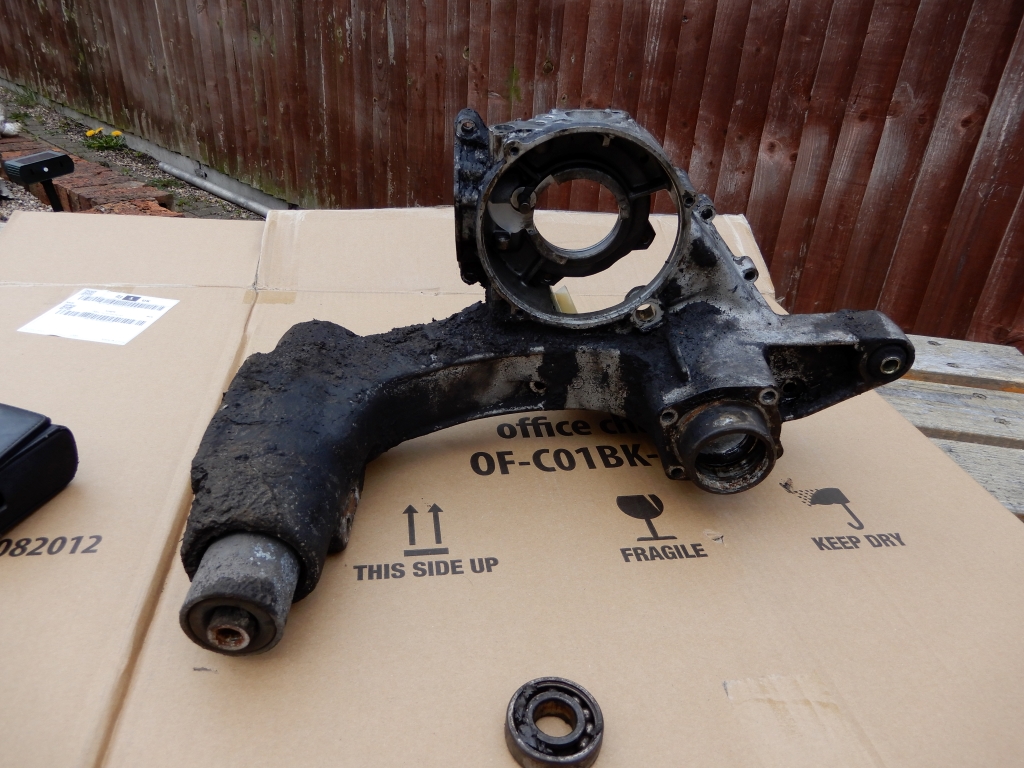 Only one way to get this job done properly...you've got it...engine out time...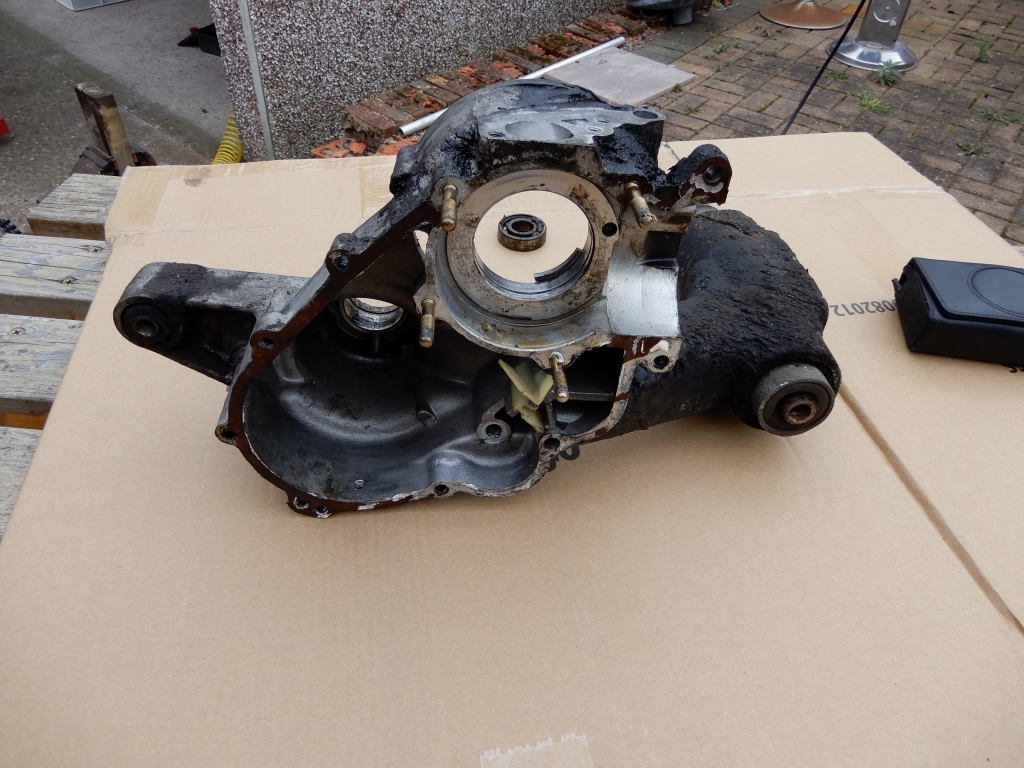 considering the state of everything I was amazed at how easy it came out...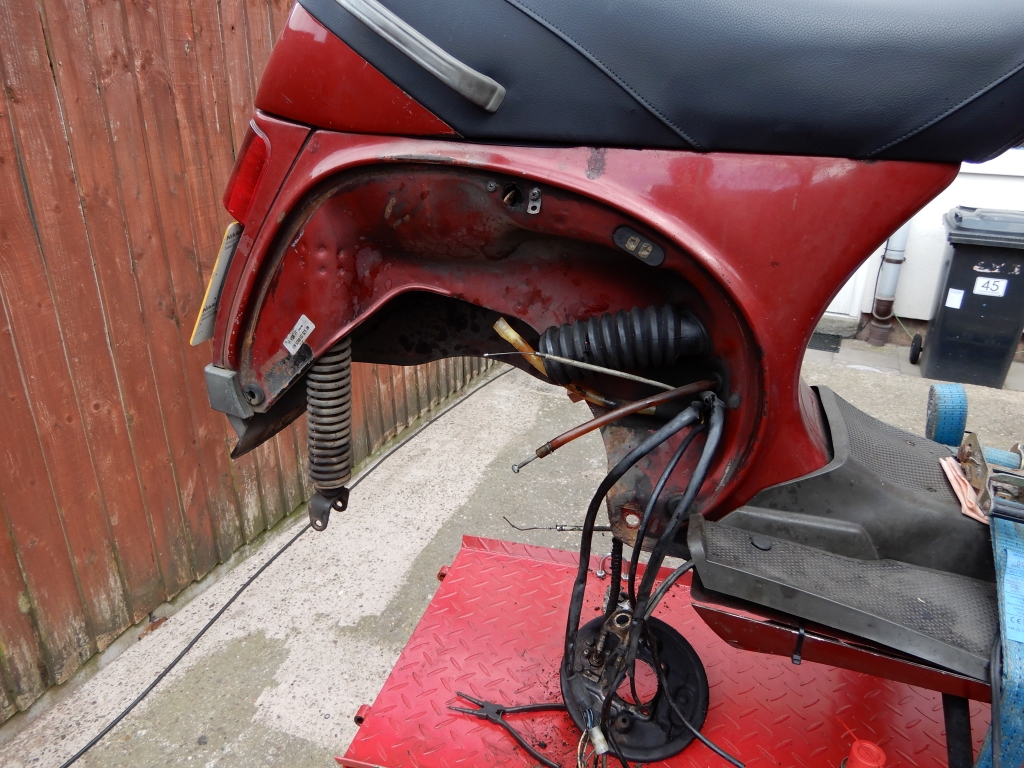 didn't even have to disconnect the rear hydraulics...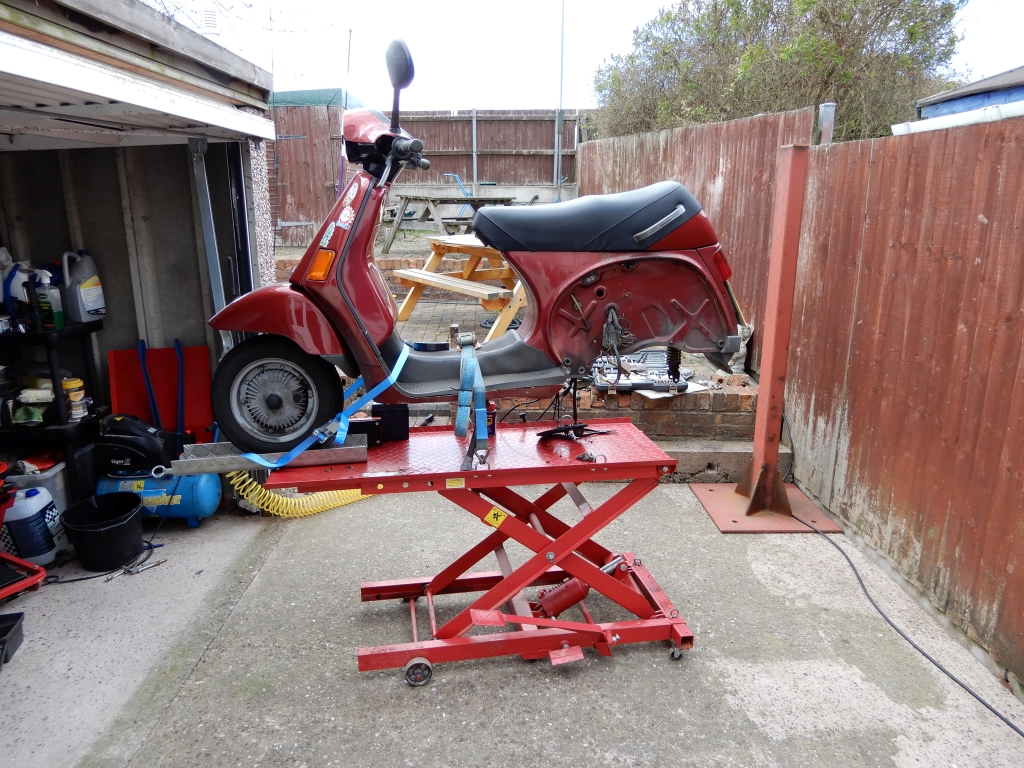 having a bike ramp makes life so easy...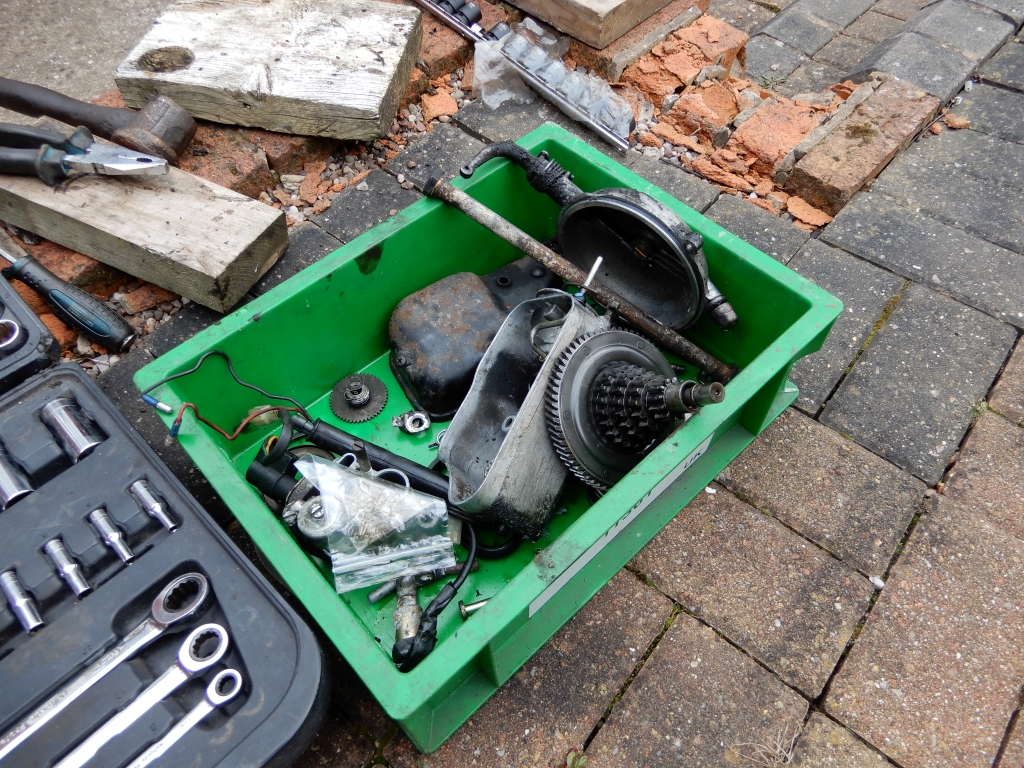 with everything apart it's time to start the cleaning process...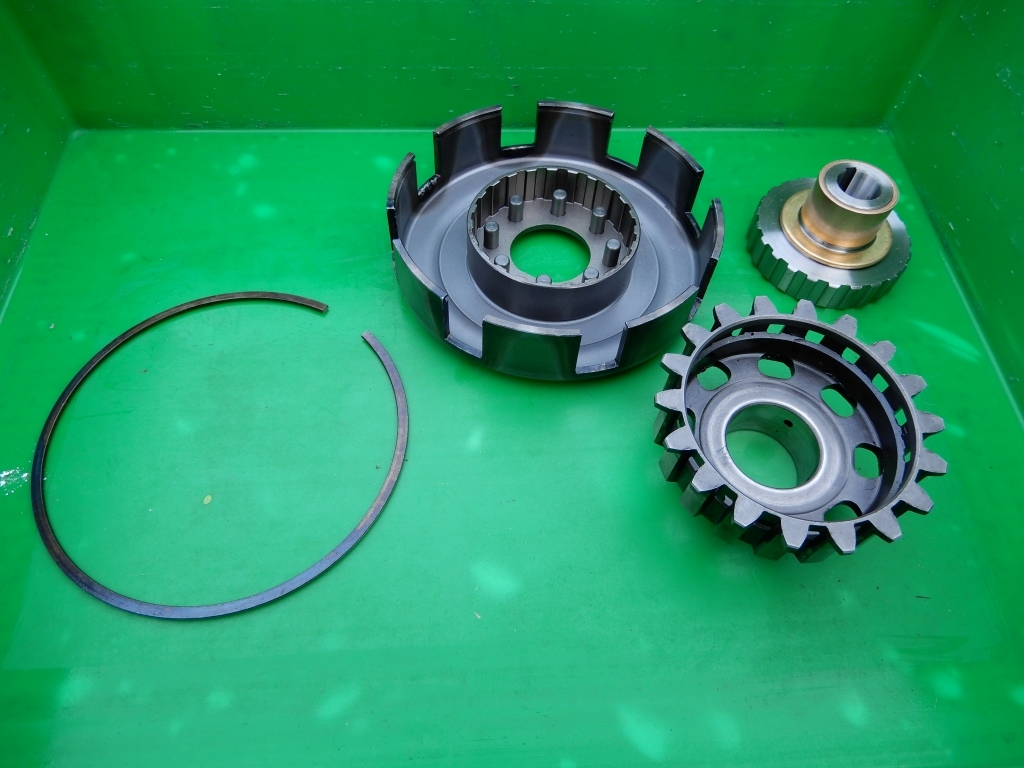 I've managed to salvage the gear cog...everything else is new...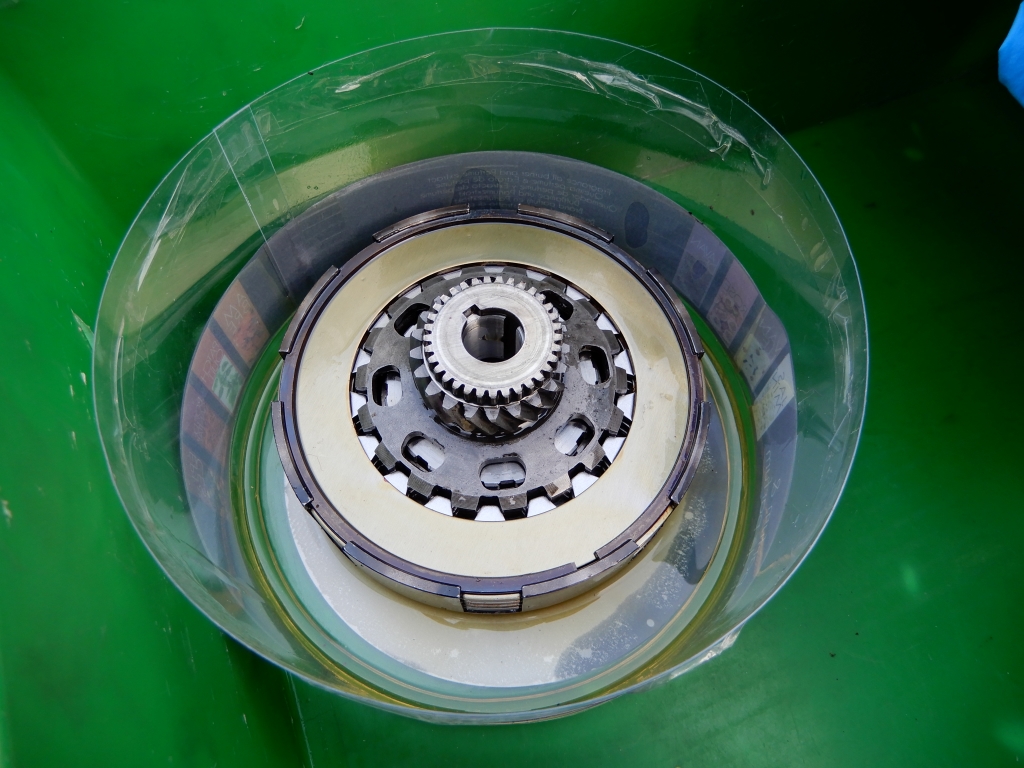 completely assembled clutch basking in a bath of oil...just one of what seems a million jobs completed...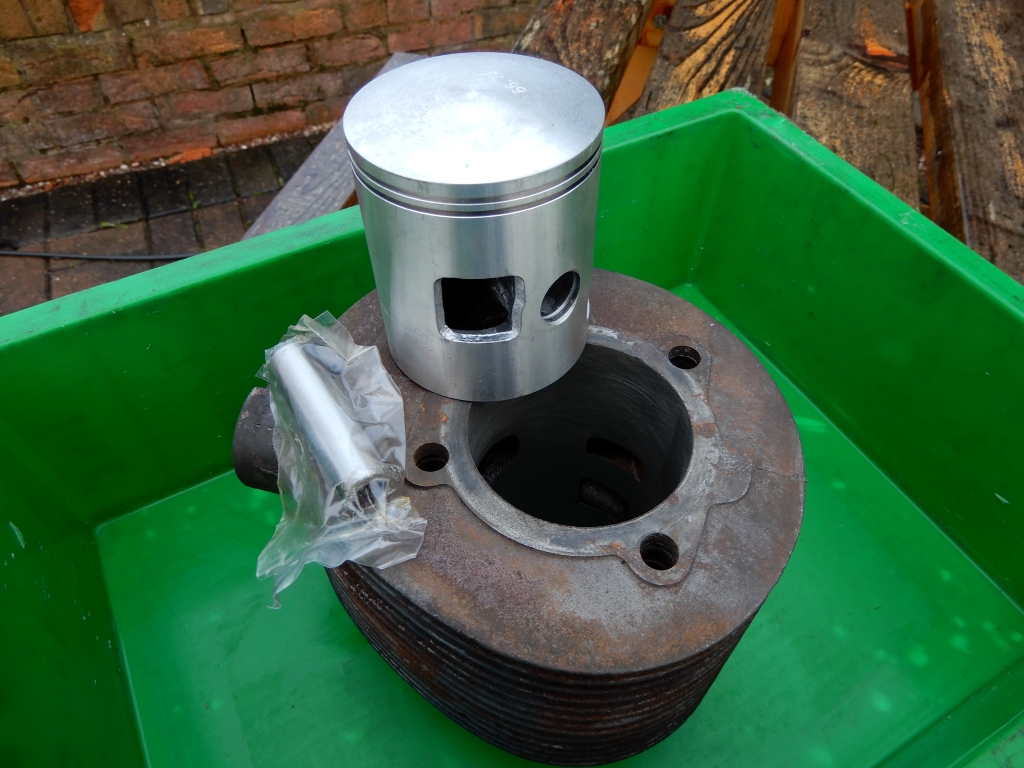 I have to be honest here...the first thing I did was to purchase a new piston & get the barrel rebored...way before the complete strip down...
weird size piston!!..66.75mm!!..the only one I could find at the time...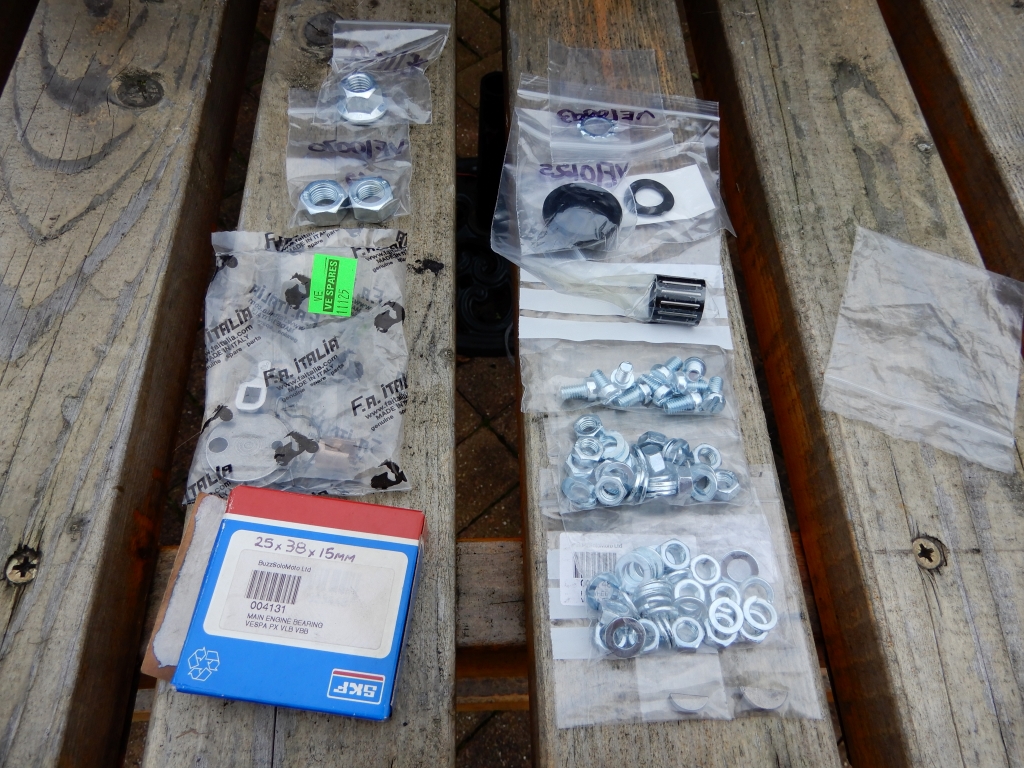 new clutch arm parts...all new nuts & washers...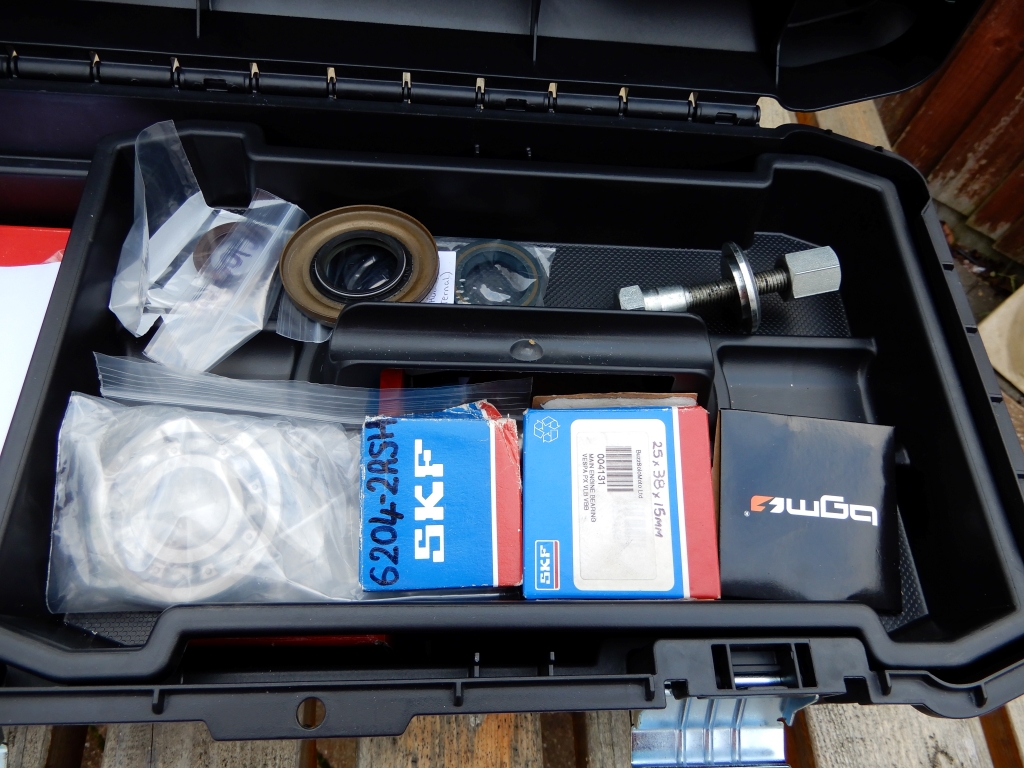 all new bearings...new bgm cruxiform too...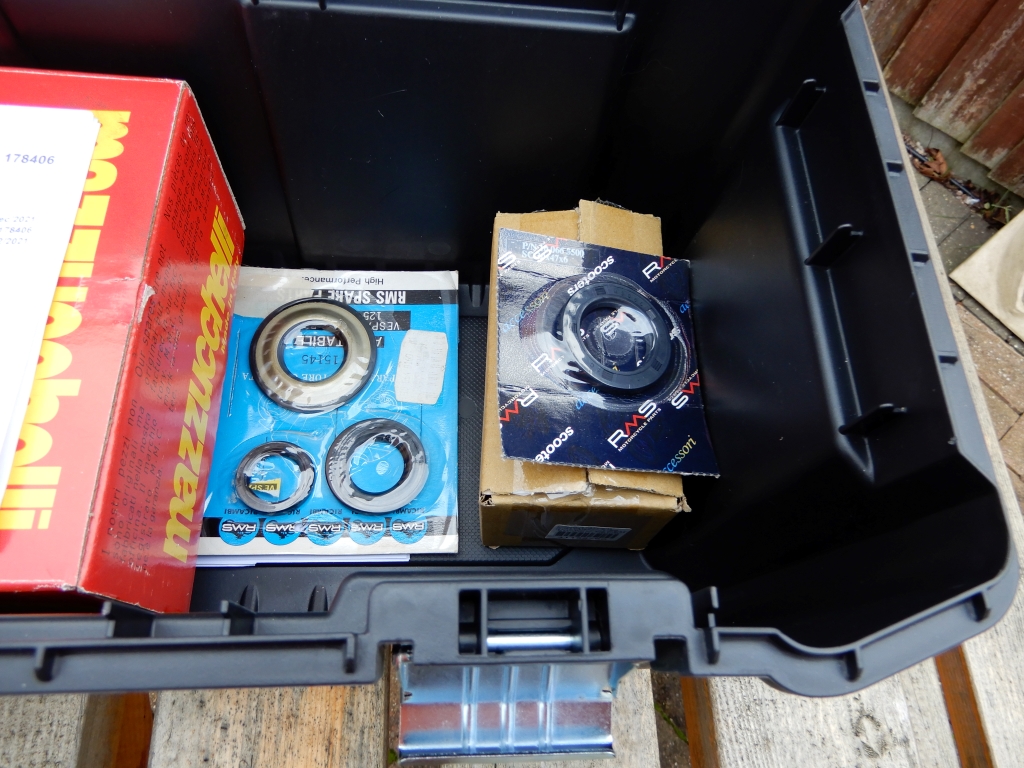 all new seals...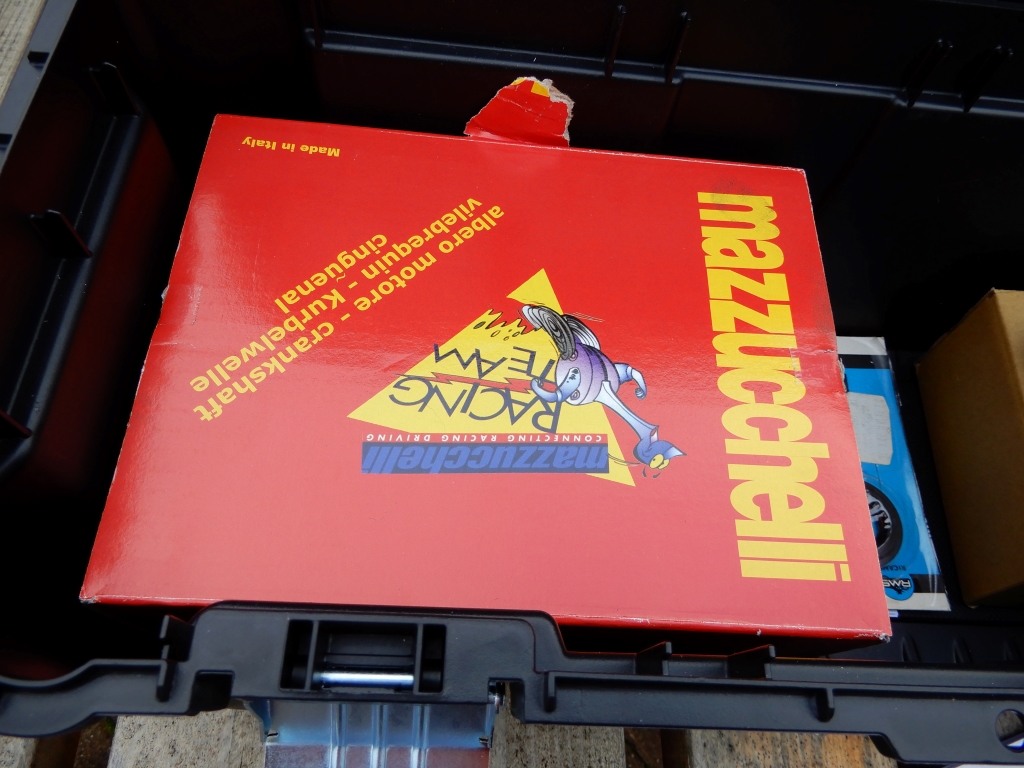 brand new crank...no expense spared...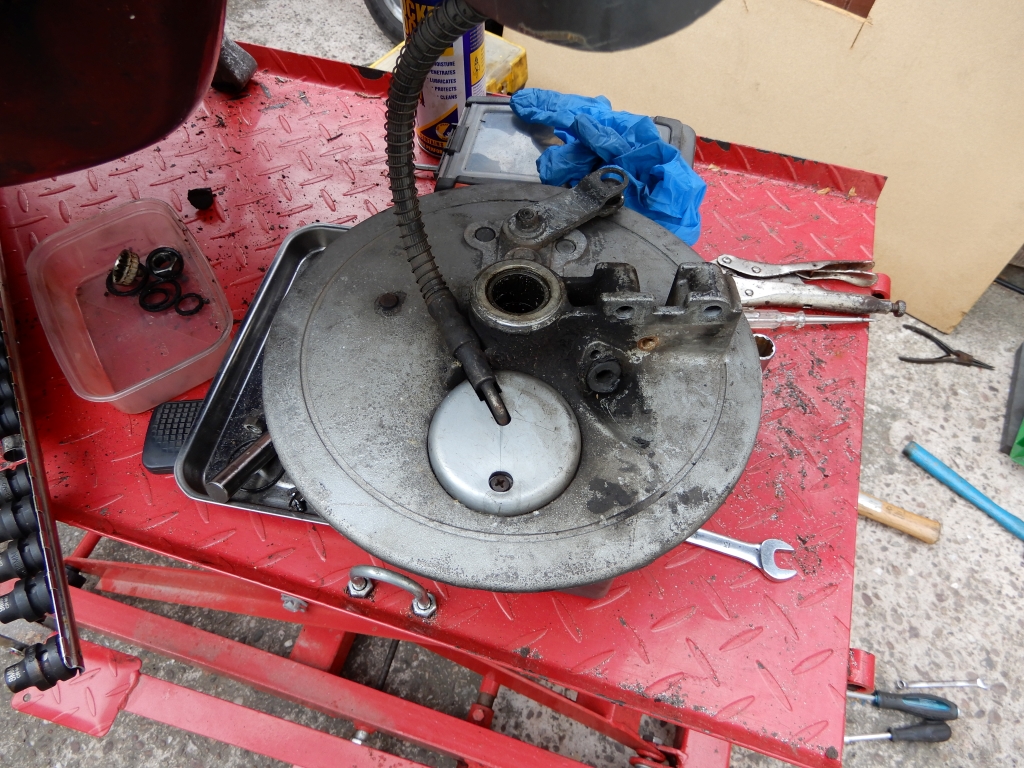 another job that needed doing was the fork link...so off with the front hub and backplate...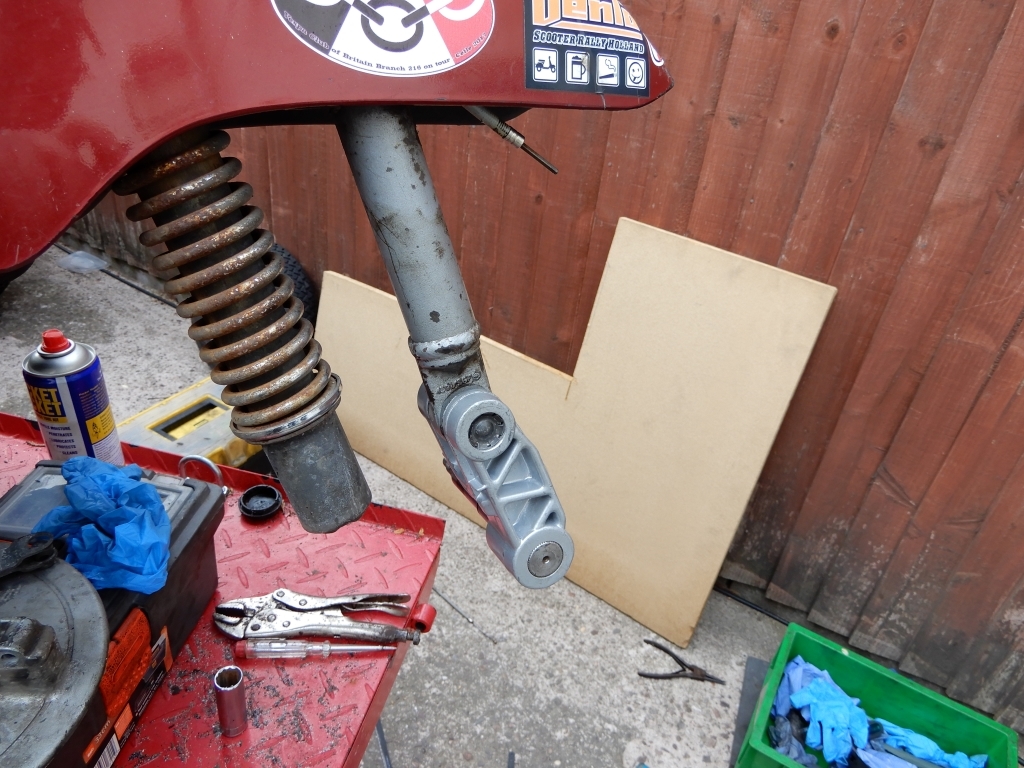 this had been a MOT advisory for a number of years now...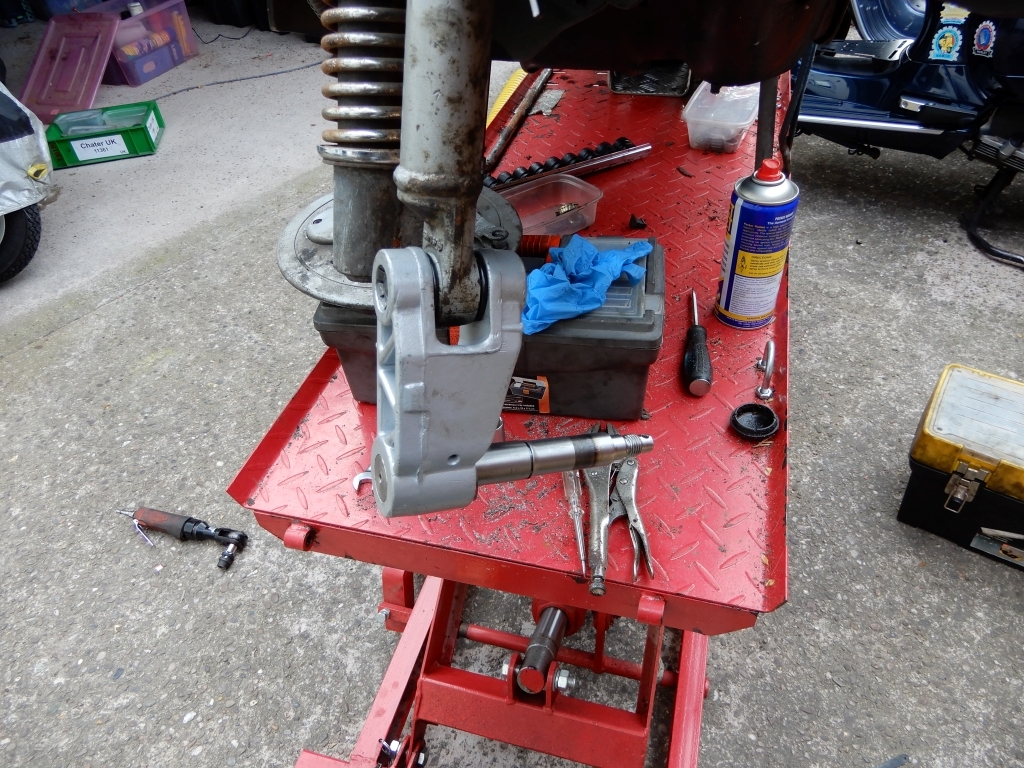 excessive play in the front hub...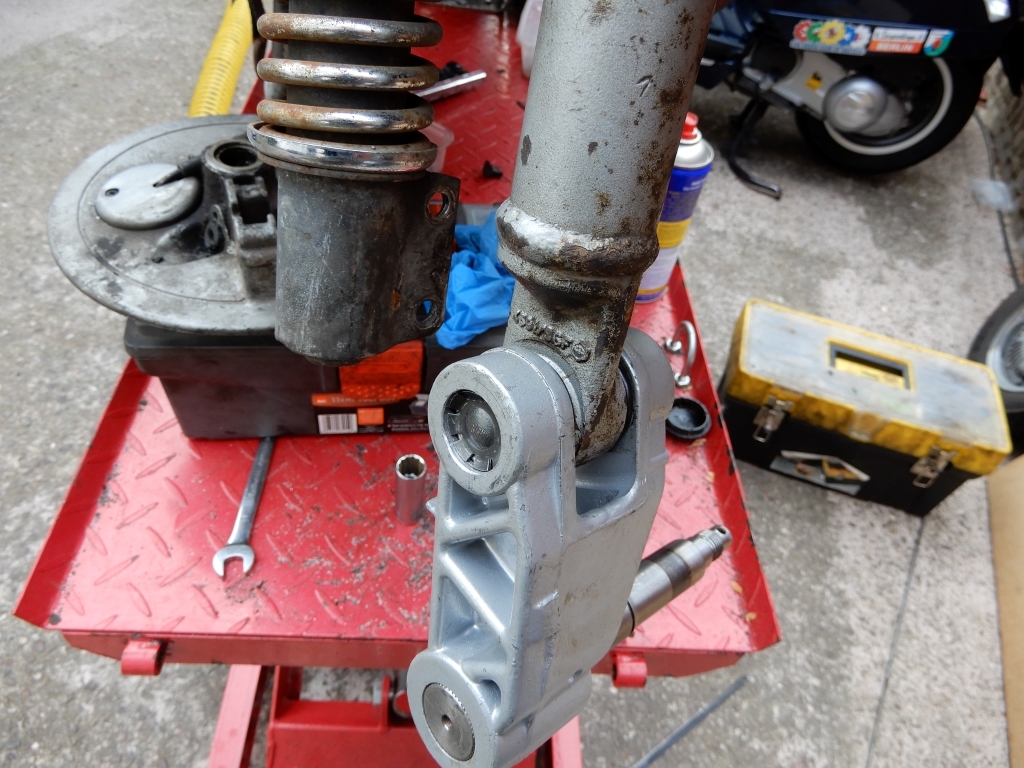 and to be honest compared to my other Cosa it was very excessive...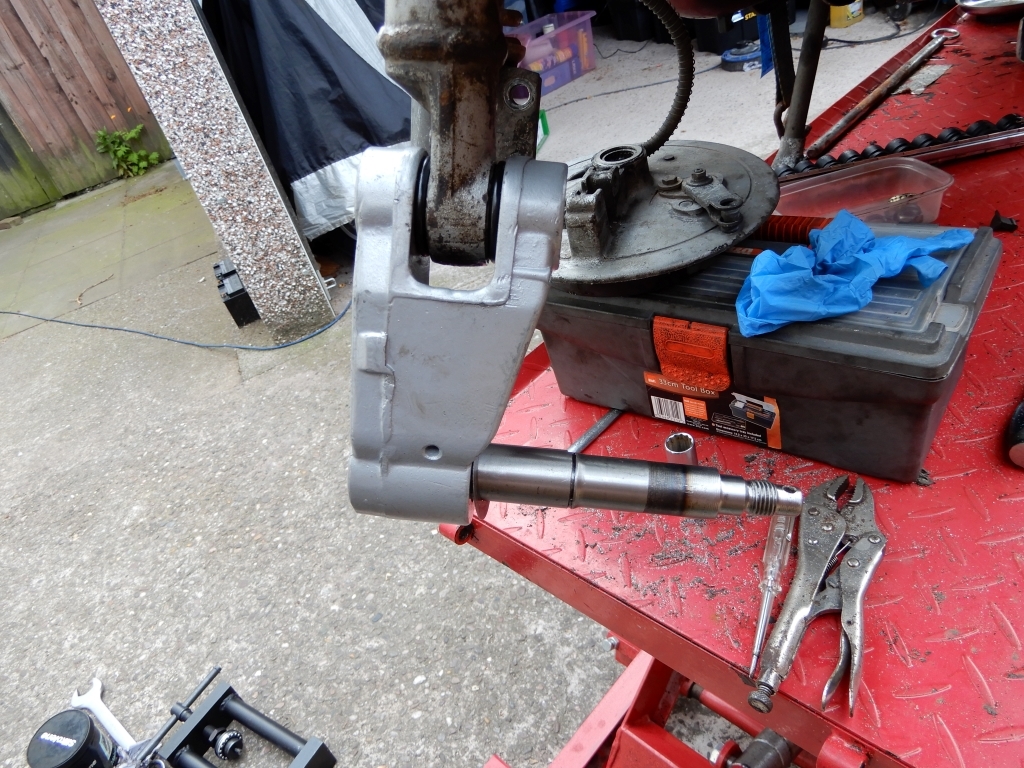 a beautiful job if I may say so myself...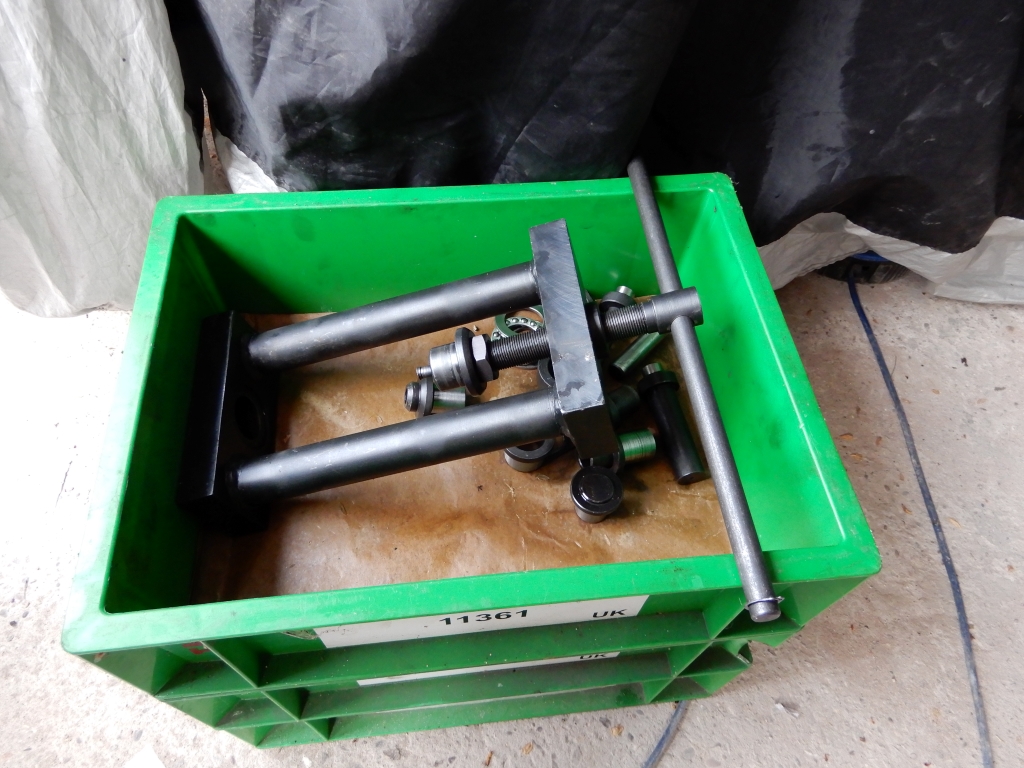 a job that's easy to do when you have the right tools...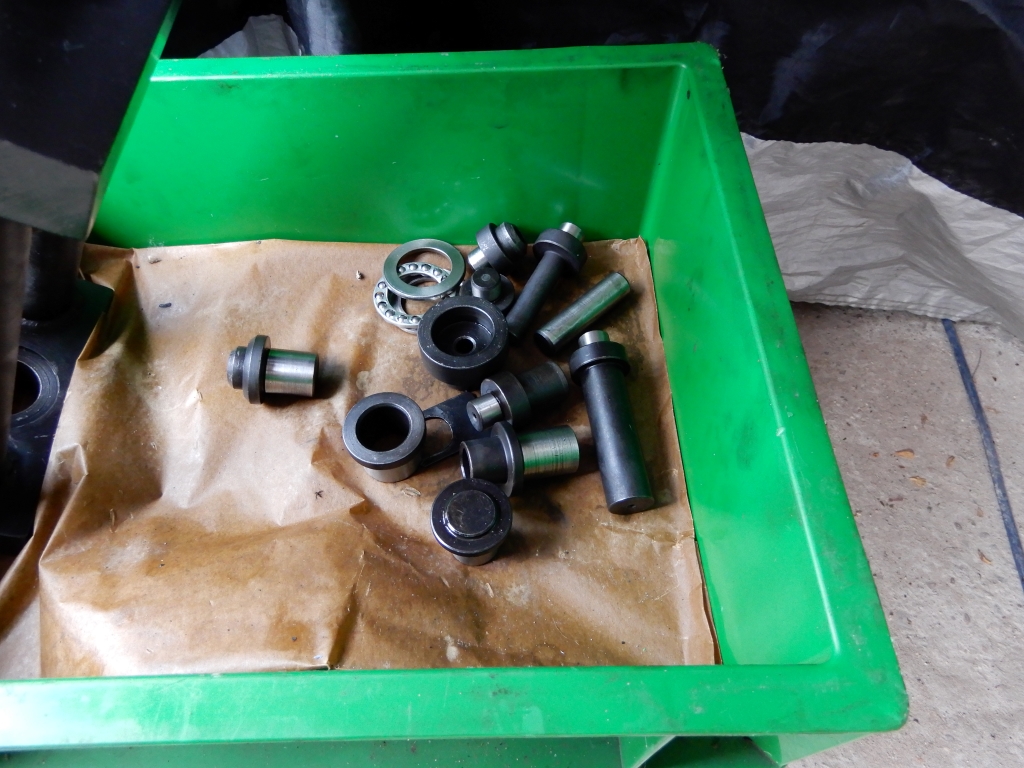 well...almost the right tools...there is a spacer missing from this kit...as much as you contact s.i.p. about missing parts their customer service is f*ck*n' sh*t...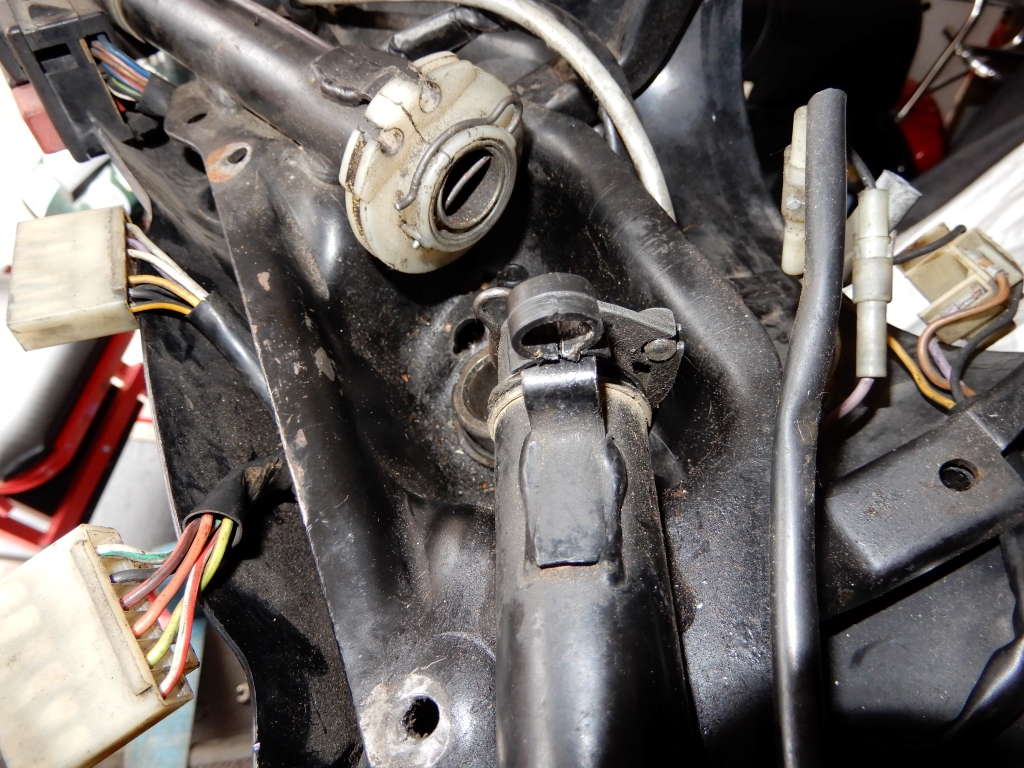 I retire from work at the beginning of 2024 so I want to ride this to work for the next 18 and a bit months hassle free...so while I'm doing the engine it's time for new cables...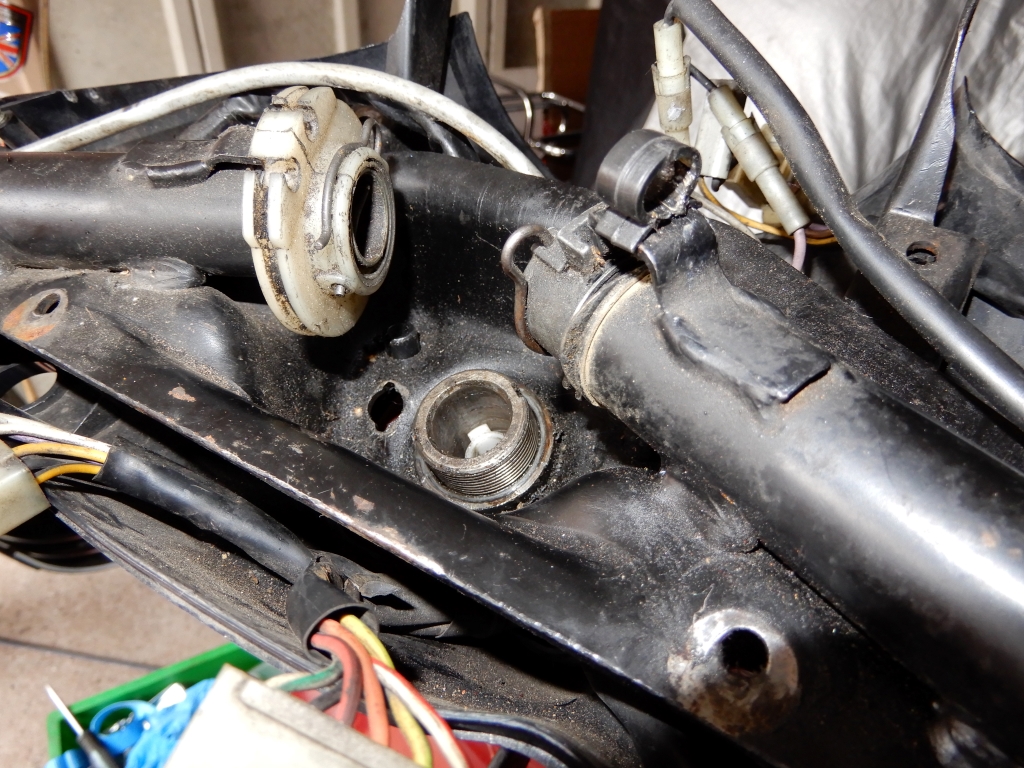 as fiddly as a T5...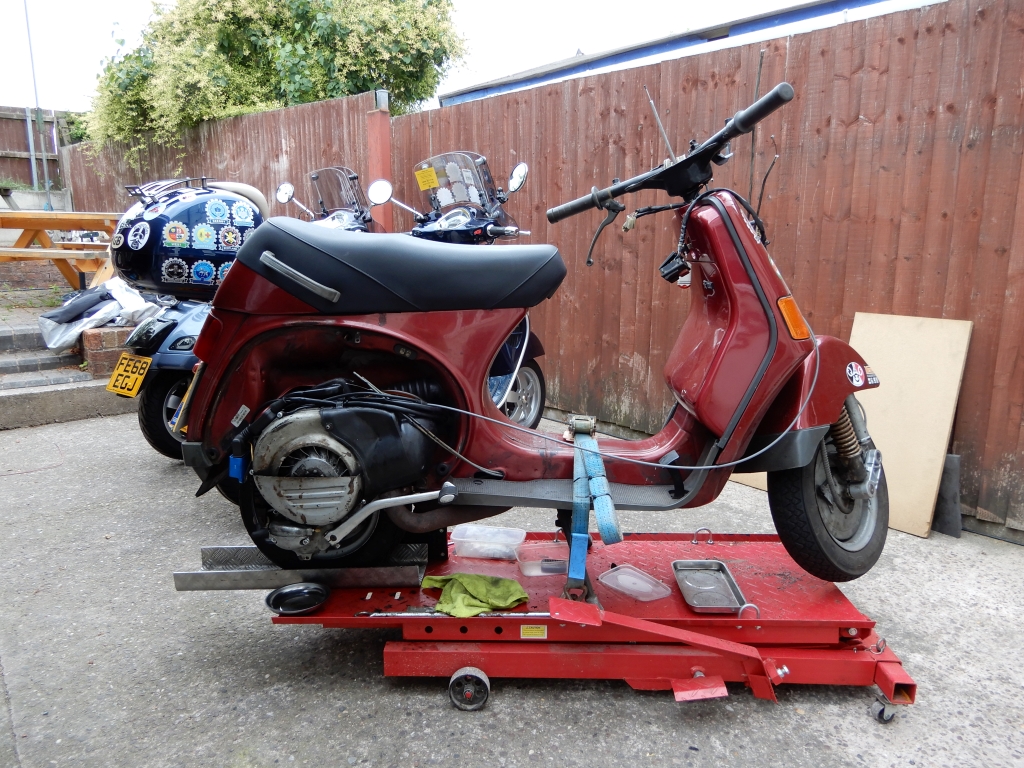 engine's in...front hub assembled...still some way to go...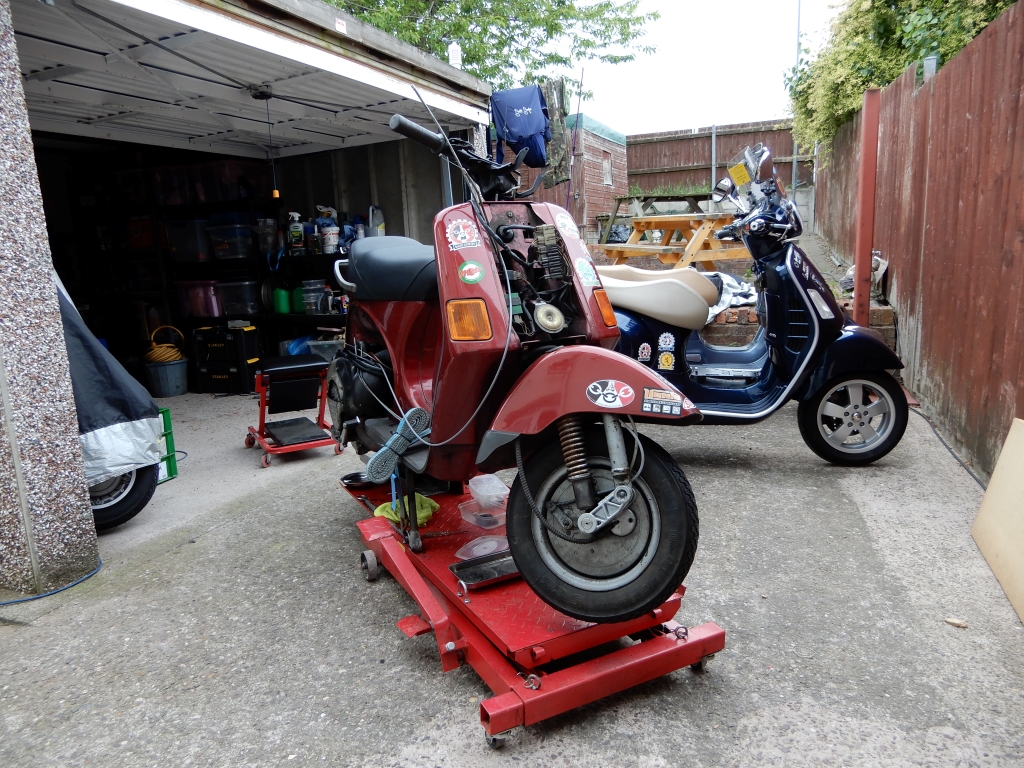 have you ever bought a replacement throttle cable to find two foot of play!!..this one was perfect...I do have about six that aren't...I got a headset bottom of eBay for £20 with no broken lugs...just waiting for it to arrive...as you have seen from the pictures at the top of the page I left it grey and just fitted it...
from here on in are pictures of jobs that have been done from the day I bought it...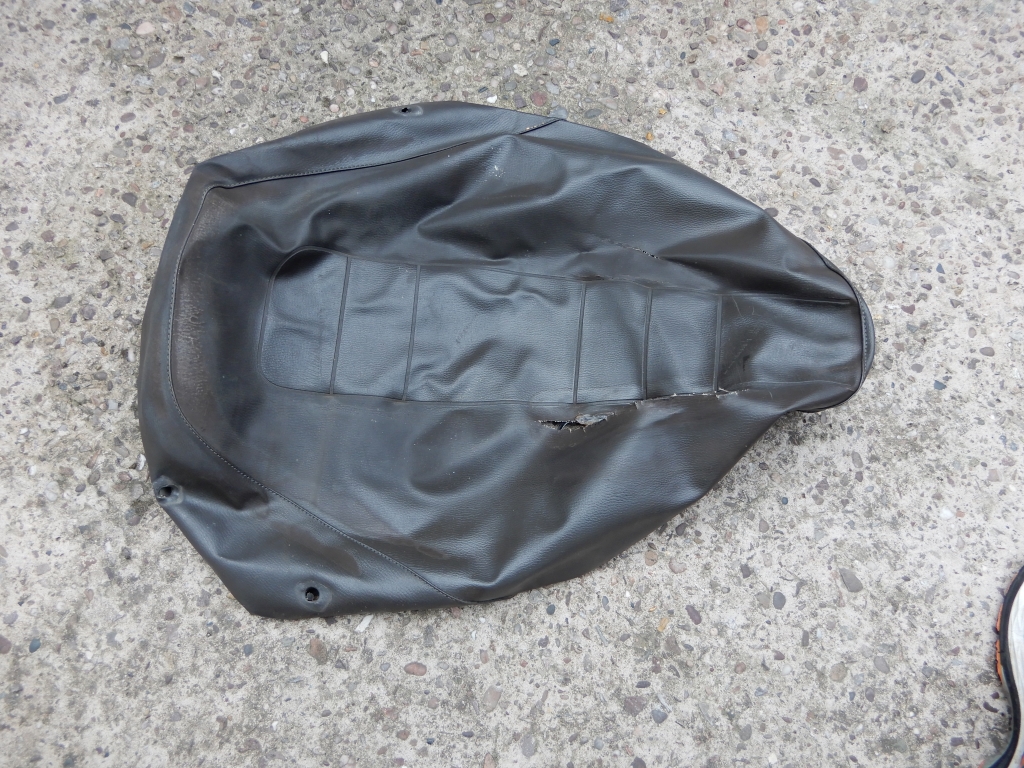 August 2020 saw me replace the ripped seat cover...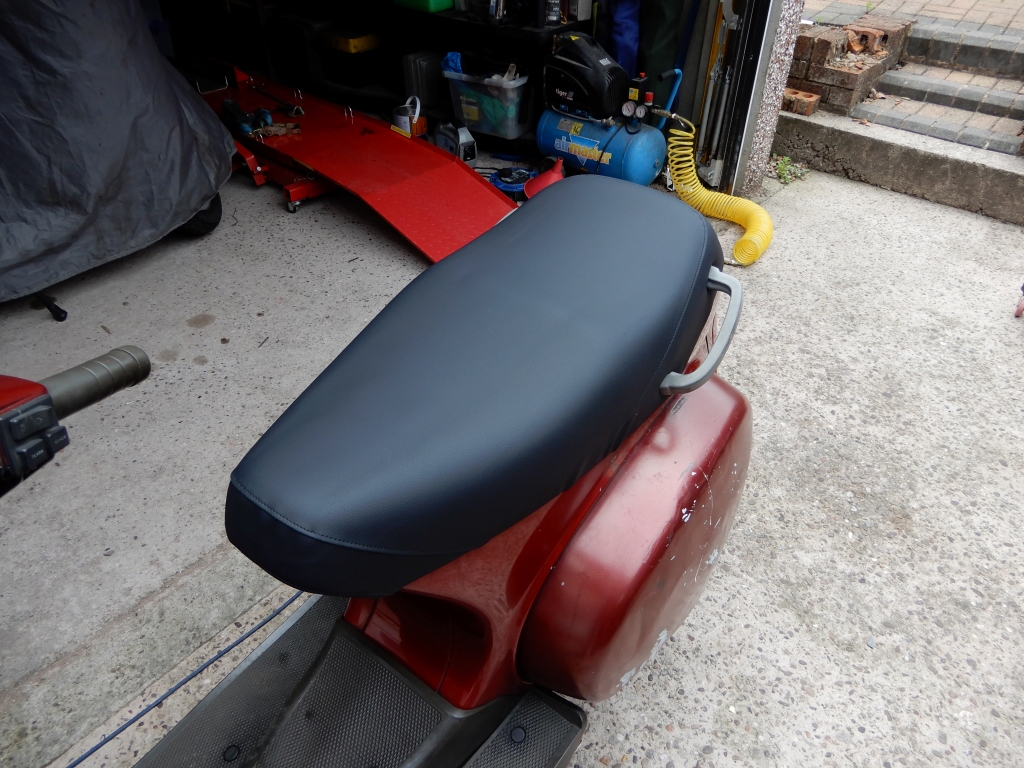 I have a stapler that runs from the compressor so this was an easy job to do...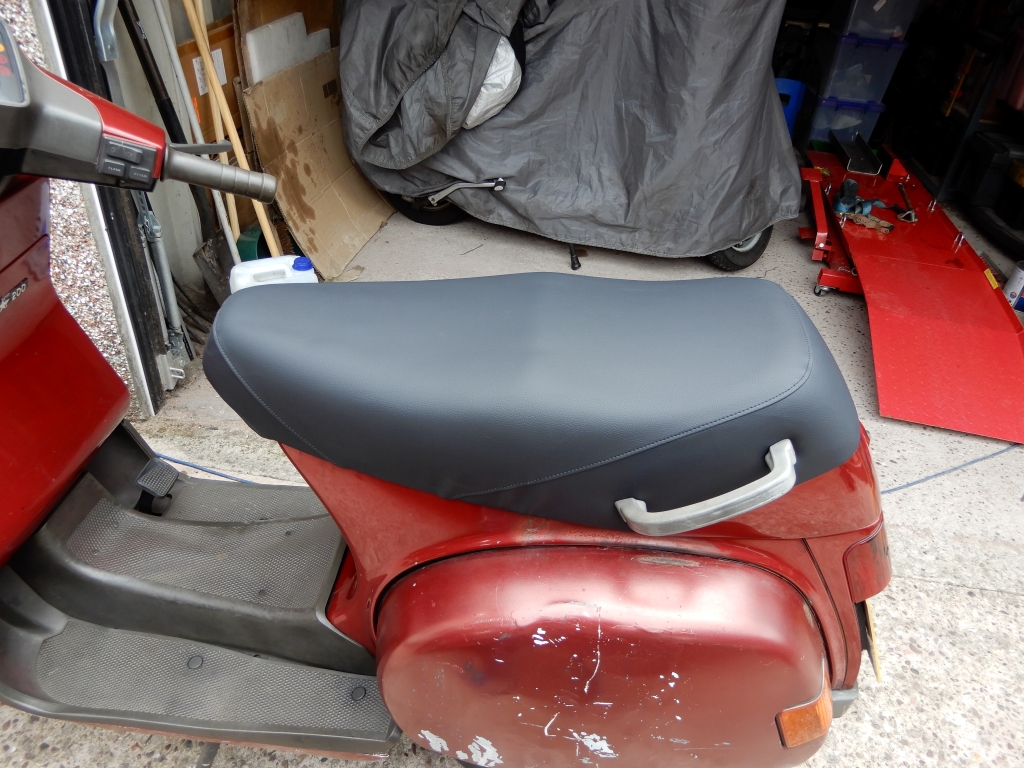 got the cover off eBay...as you can see it doesn't have the original pattern in it but who care's!!..
Let's go back to where all the work began...as I said previously I bought the Cosa in 2016 but it wasn't until 2018 that decided to start working on it...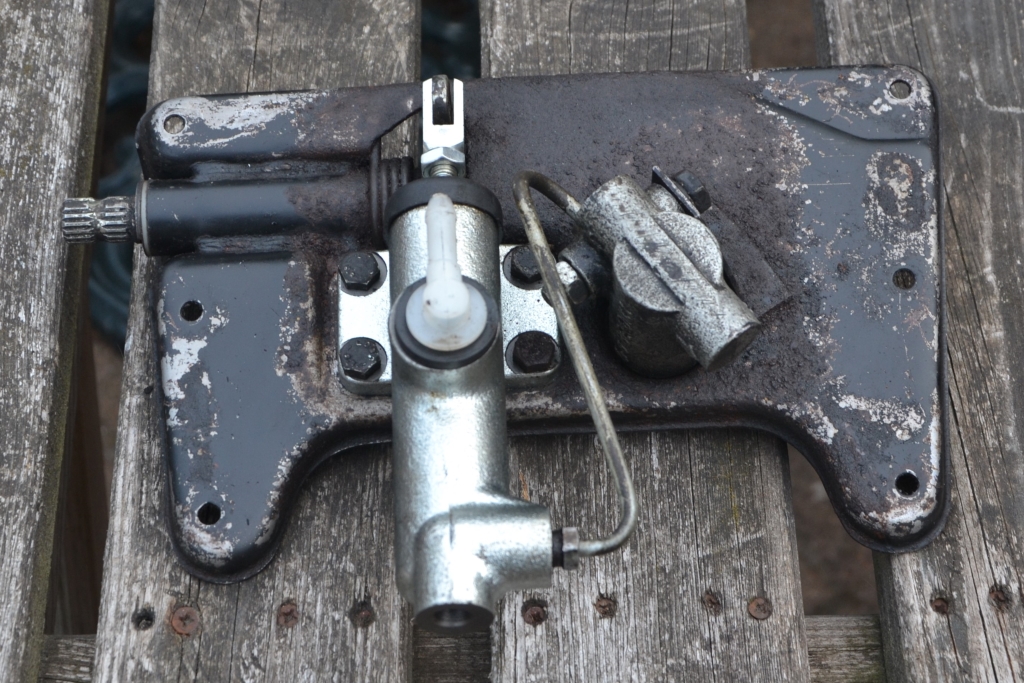 first job...master cylinder...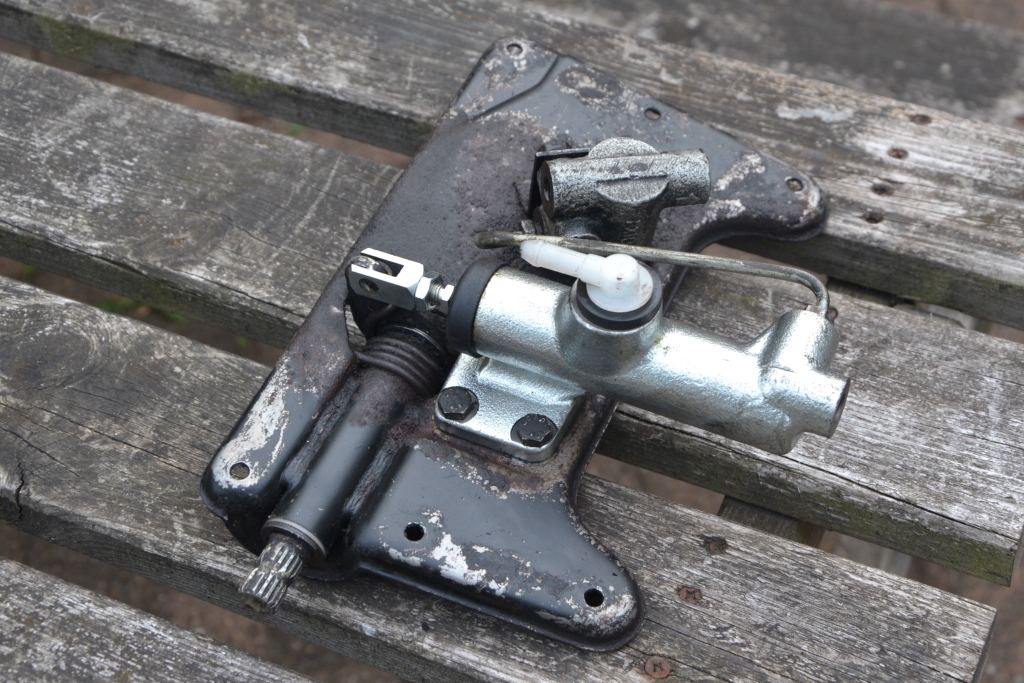 at this time I'm gonna point out that this took me me five three hour evenings after work to get done...three evenings spent on the master cylinder alone...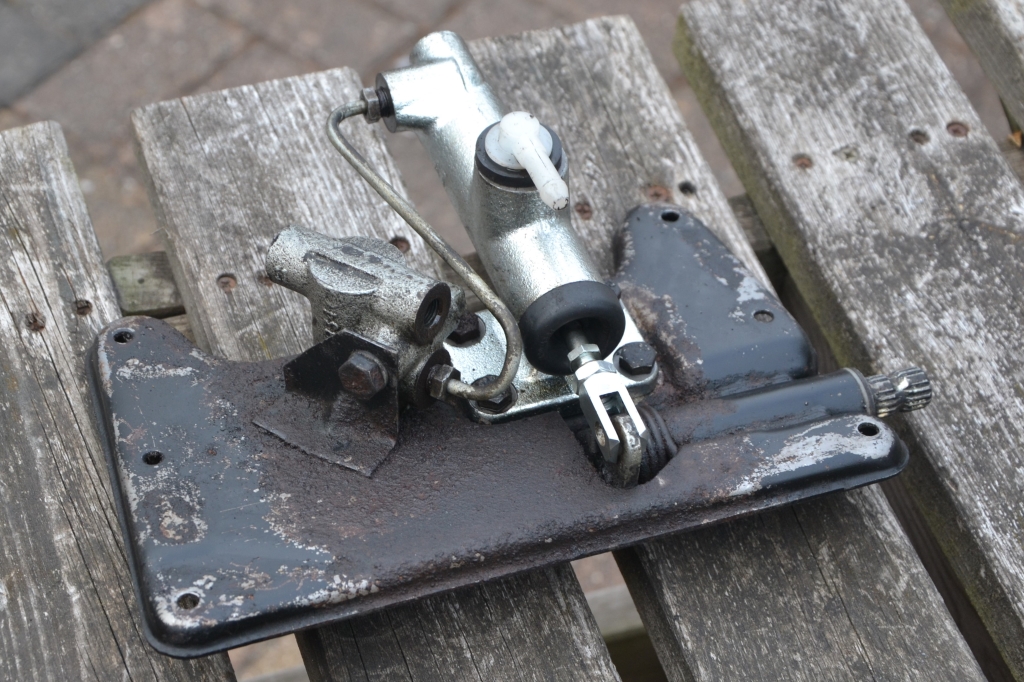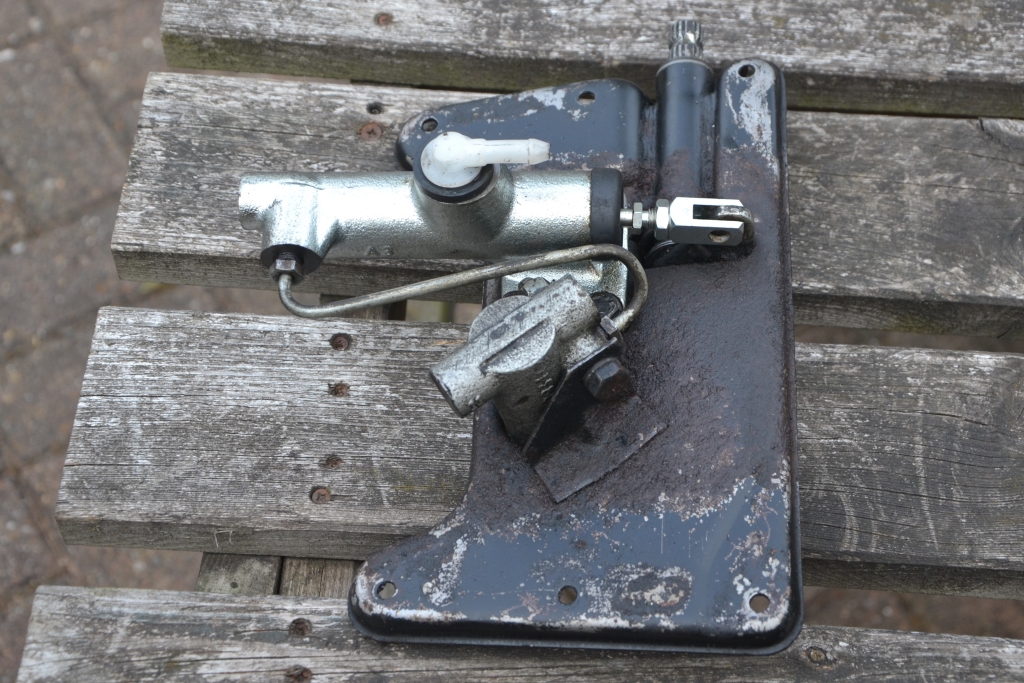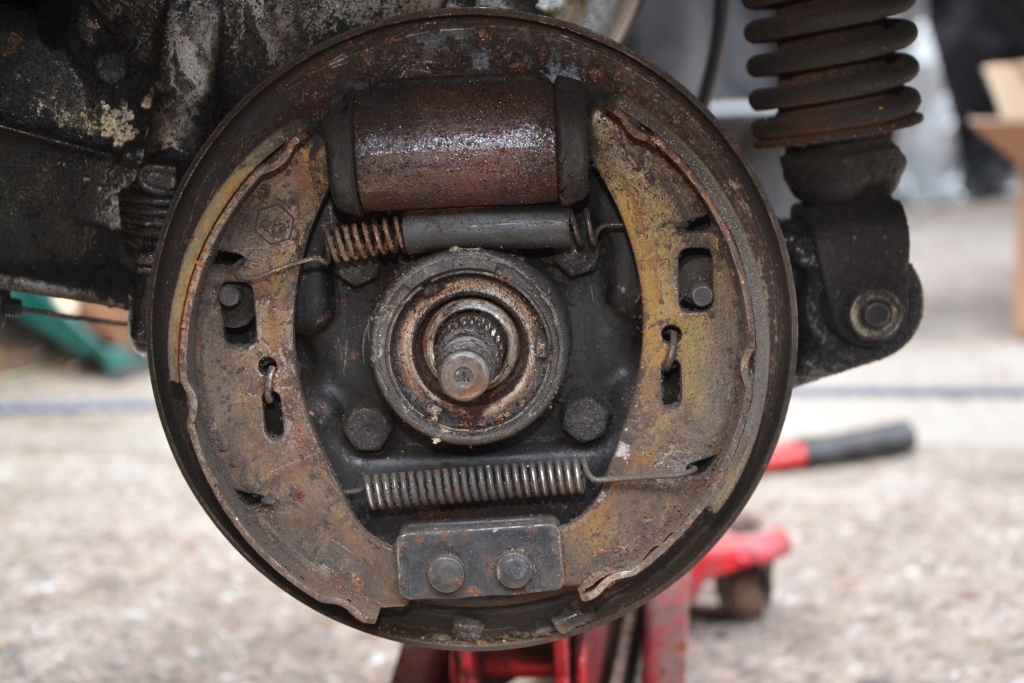 as you can see well overdue a rebuild...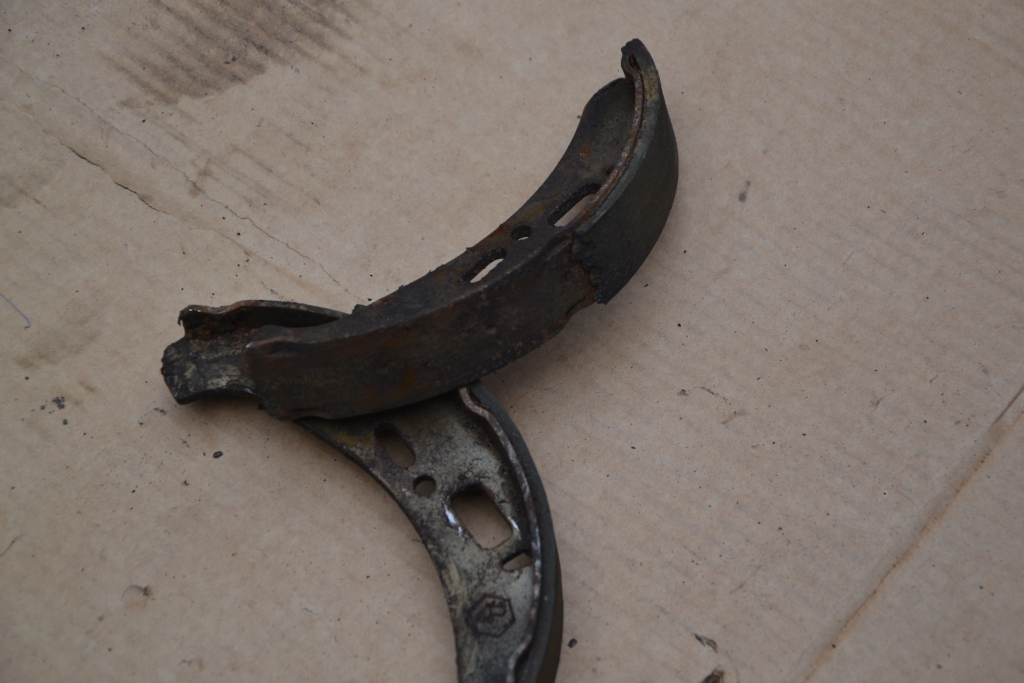 don't know where the missing part of the shoe is!!..it wasn't floating around the hub...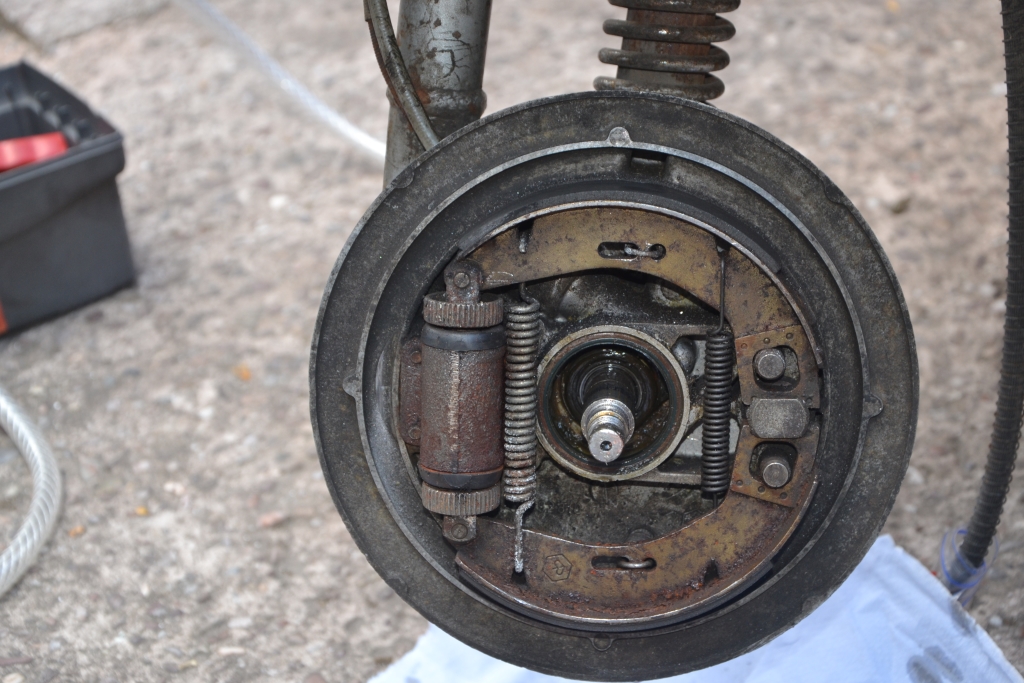 front brakes aren't much better...
time to start the brake shoe & slave cylinder overhaul...hydraulic pipe removed...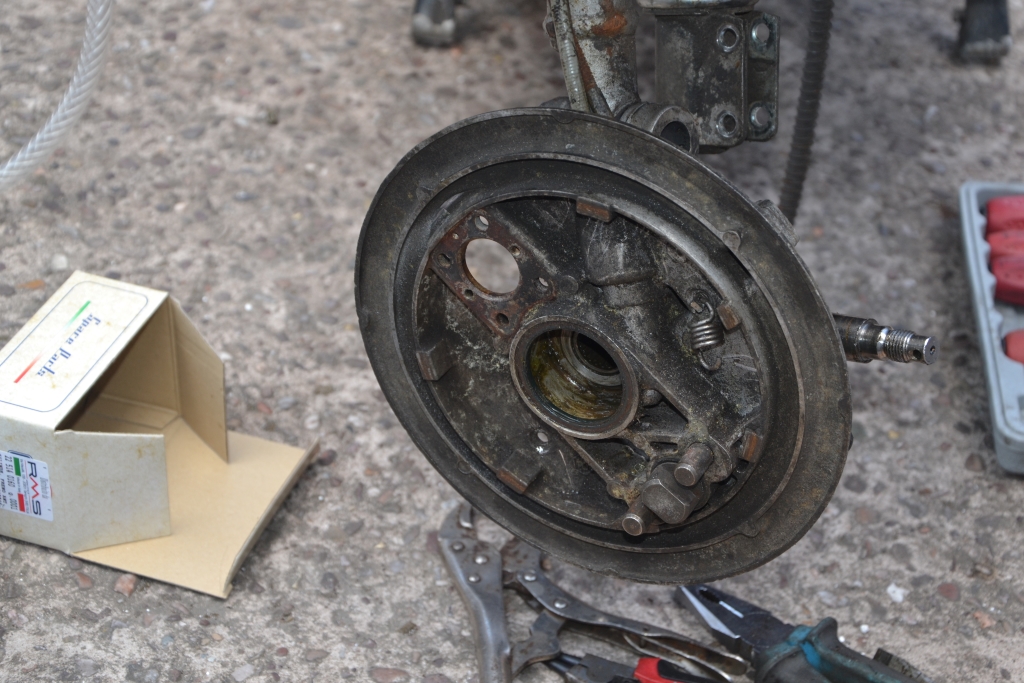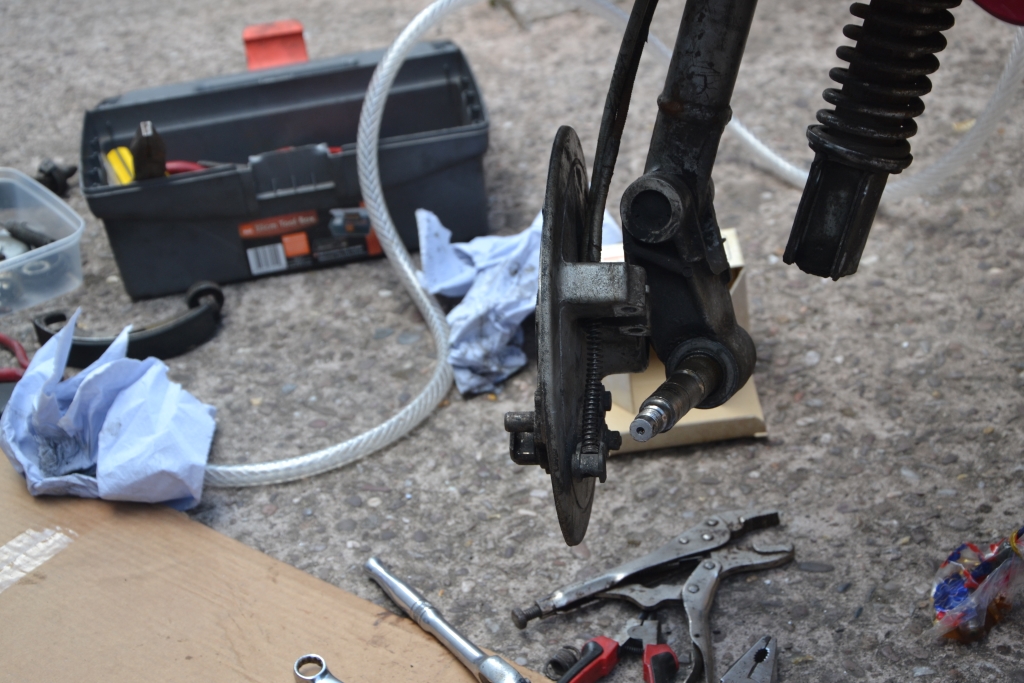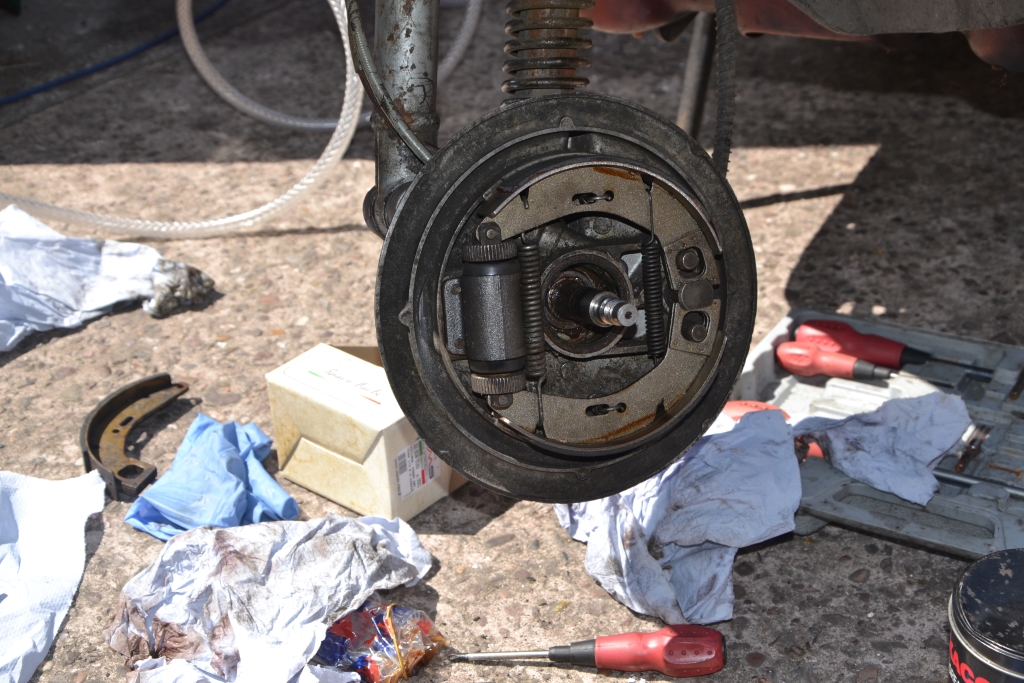 just gonna point out that I bought all the kit complete from "Scooter Center"...price was spot on...problem was the shoe material is not in the right place (at least half inch difference) and on braking the front brake kept locking up...I replaced them with "Renfrew" one's (which were an exact match for oem) from Highway m/c's in Wolverhampton and job's a gud un...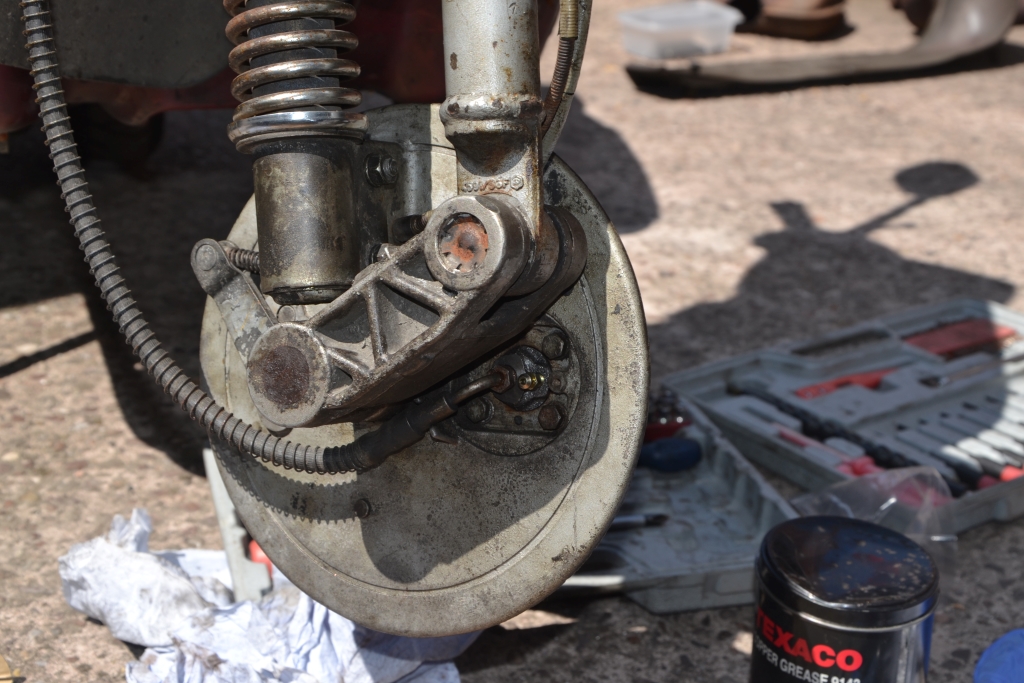 front hydraulics connected and bled...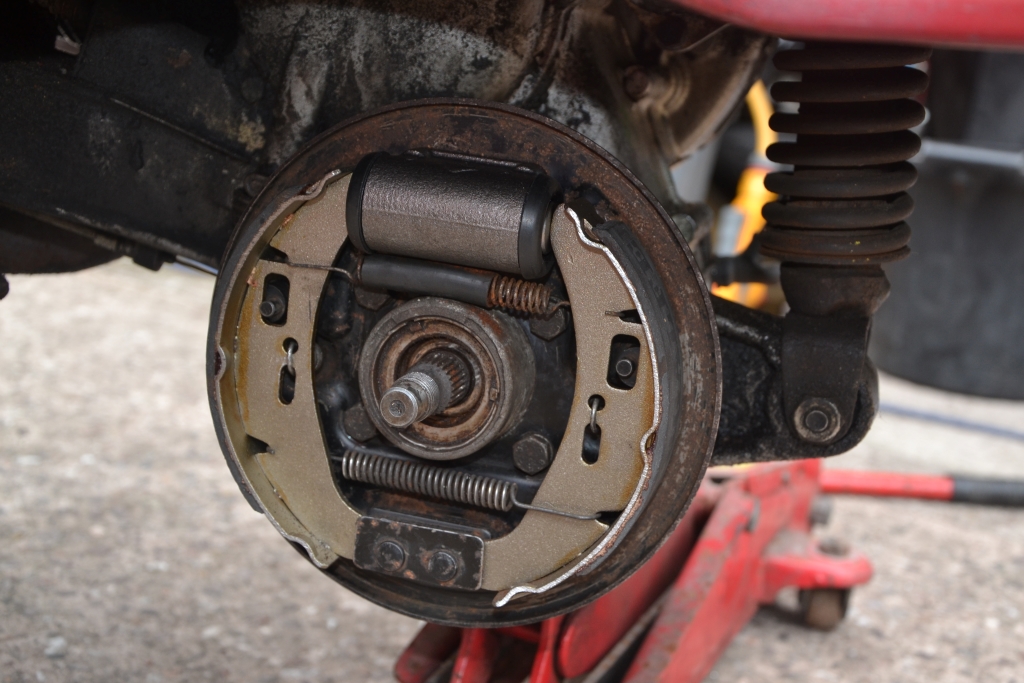 it's more obvious in this picture the position of the brake material compared to the original ones...a good half inch on the rears...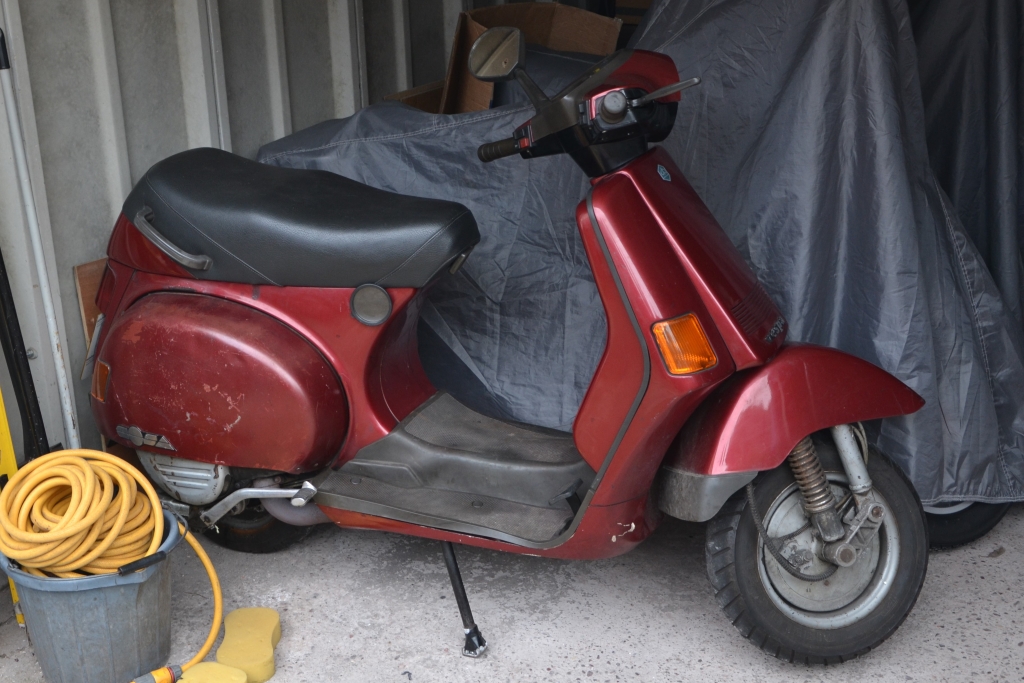 first picture I took of it in 2016...the headset bottom already had a replacement on it...sadly two locating holes were broken...