I started looking for a T5 almost immediately after I bought the ET2...when Marvin reaches 17 he will need something to take a bike test on and as we all know the T5 is the only geared Vespa that you can use...this isn't the cleanest T5 I have seen but it is certainly the most original apart from the odd couple of bolt on's...I had to take Sundance grips off it...I also had to remove rusty chrome rims...a yellow and black Yankee seat...and a horrible set of Florida bars...a fresh tin of T-cut and a bottle of "Auto Glym Resin Polish" and this is the end result...just have to remove that exhaust and fit a "Sito Plus" and away we go...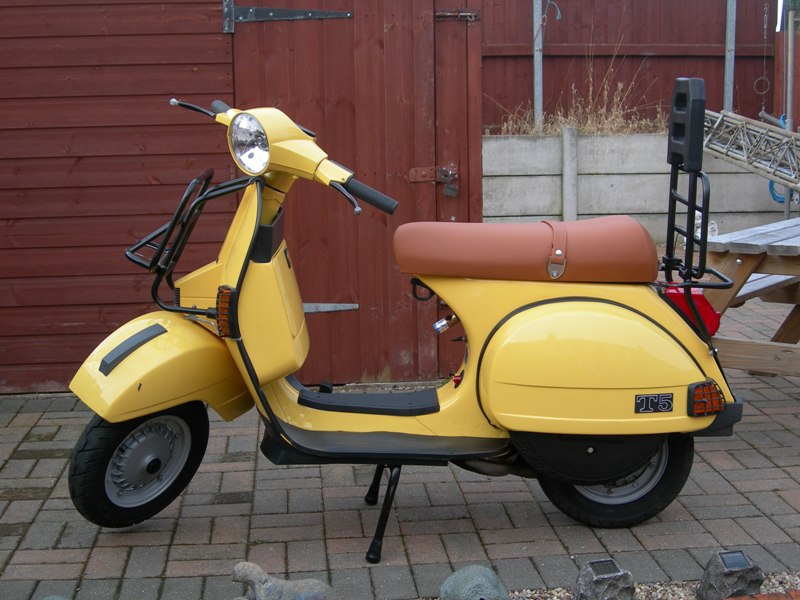 I've had to put a new headset top on...although you can't tell from the pictures the paint isn't a very good match...somebody has managed to polish out the paint code under the seat...I've also had a mudguard painted but I don't really want to change it yet...maybe someone out there has the paint code for this colour!!..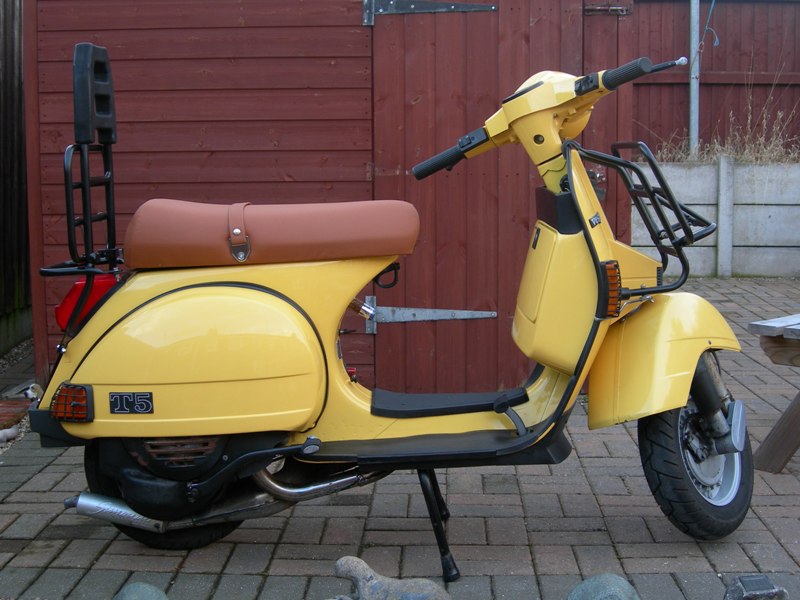 I got the seat from eBay...looks a lot better than the yellow and black Yankee seat that was on it...I also have the original black seat but I do like this one better...genuine grips look better too...I have new levers...I will sort them out when the weather gets better...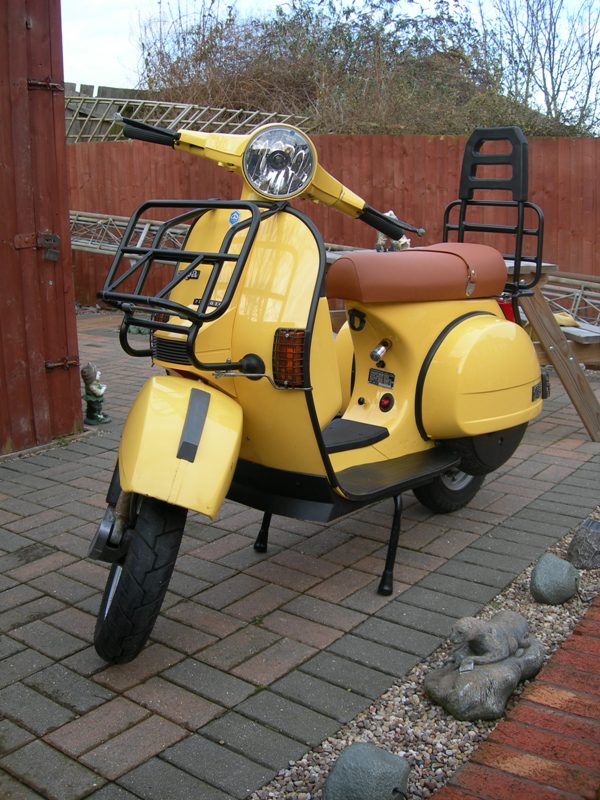 headlamp was also broken so I've replaced it with a more modern Halogen type...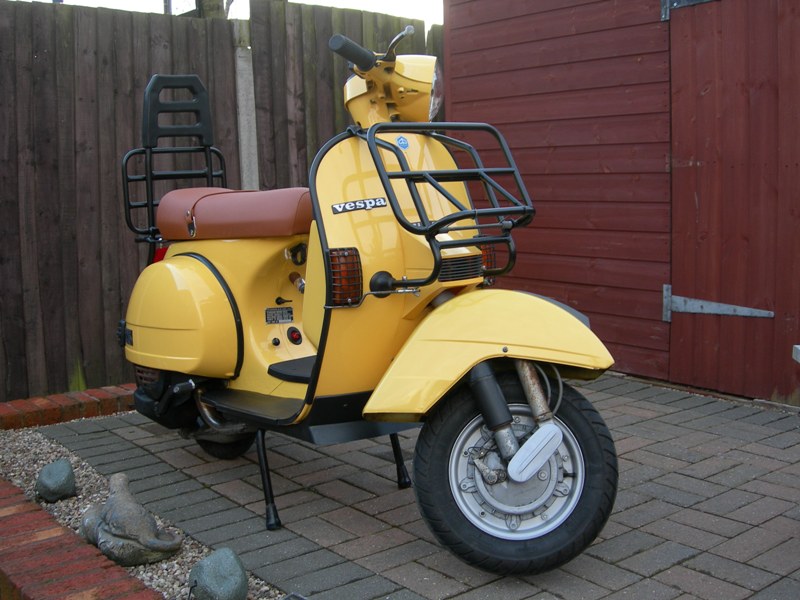 took a chrome fork link cover off...can't find a black one so a grey one will have to do for the time being...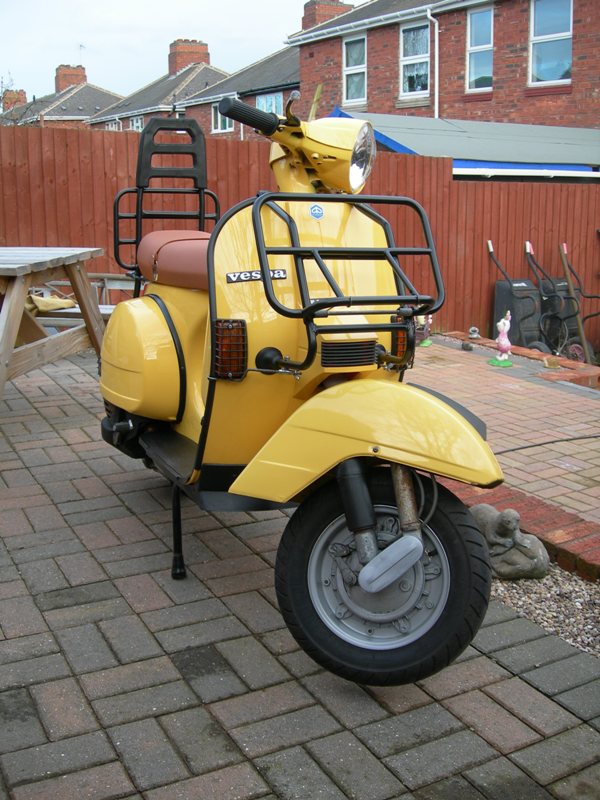 the front and rear carriers are items I used to have on the sidecar...I've had a friend re-powder coat them...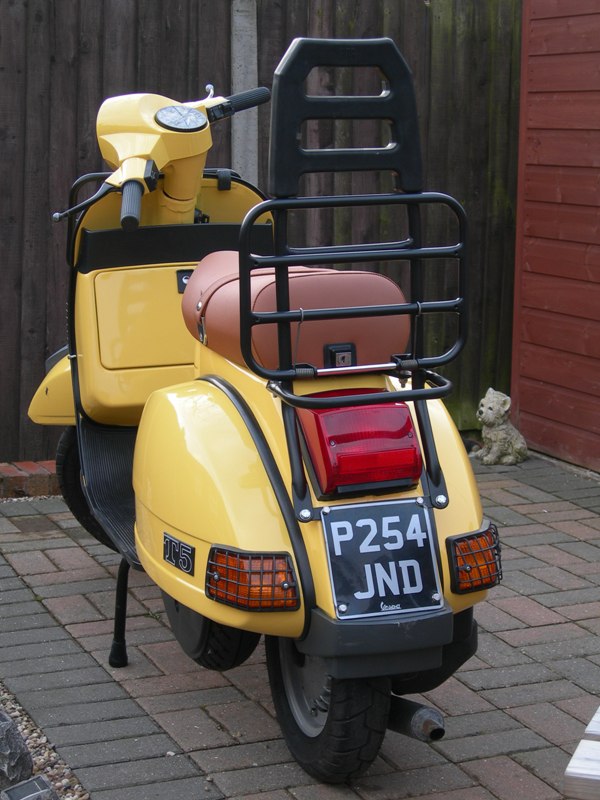 don't know whether or not to keep those indicator covers on...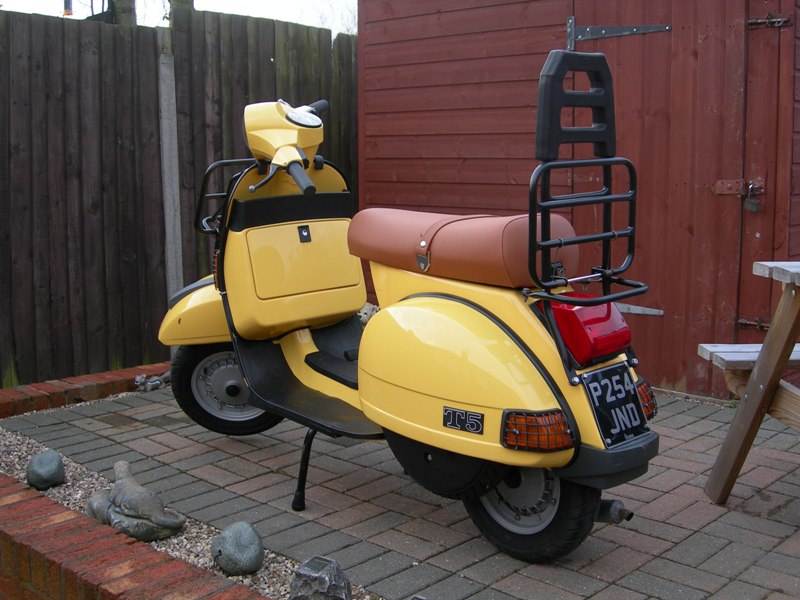 I have a set of genuine wheel covers on order...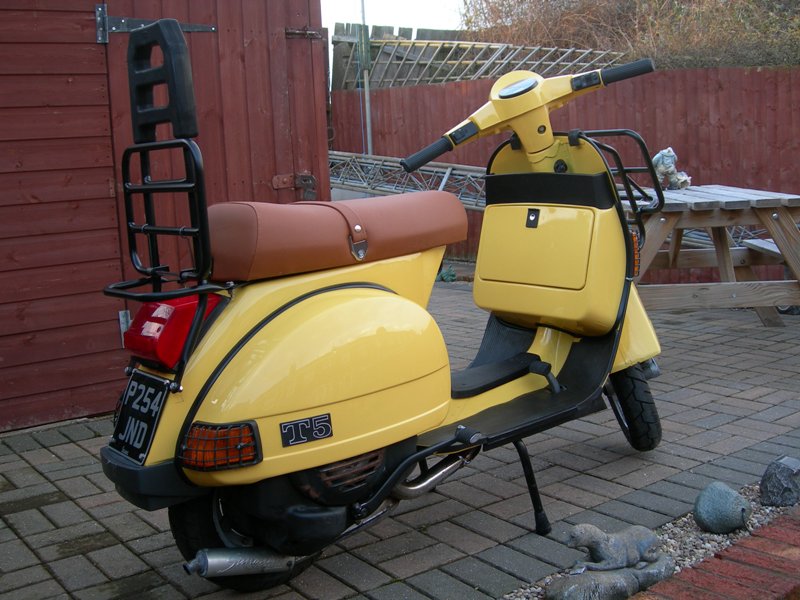 need to get the flywheel cover and kick start powder coated...little jobs that will get sorted long before Marvin reaches seventeen...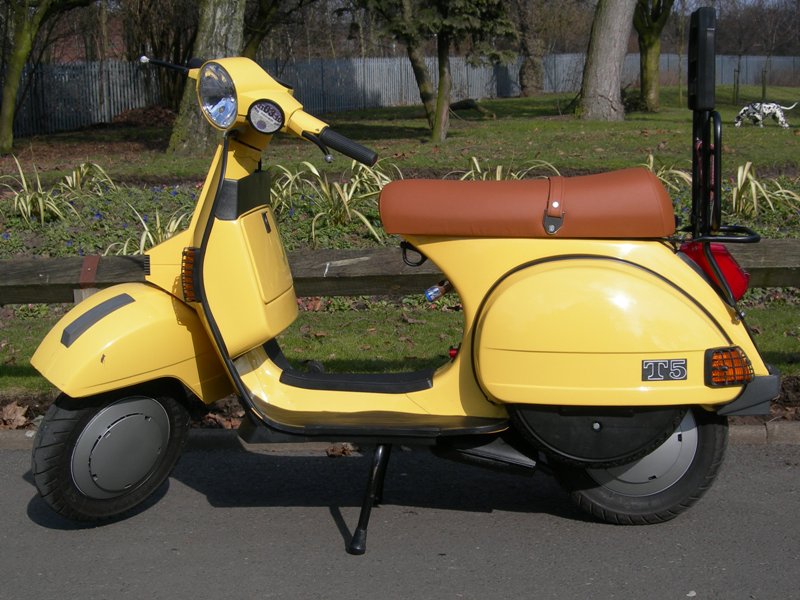 another day and a few more jobs sorted...first thing you will notice is the addition of the wheel covers...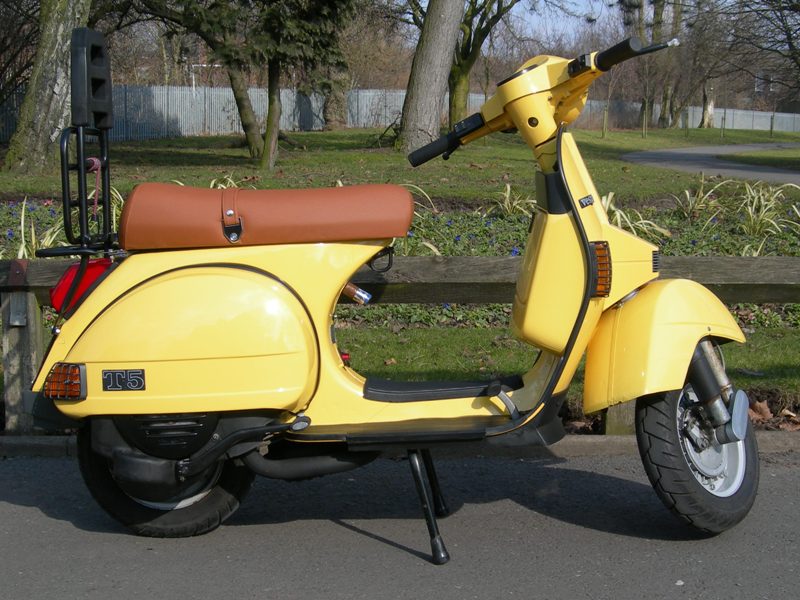 that ugly exhaust has gone too...a Sito Plus is now the order of the day...new flywheel cover too...still need to get that kick-start lever sorted though...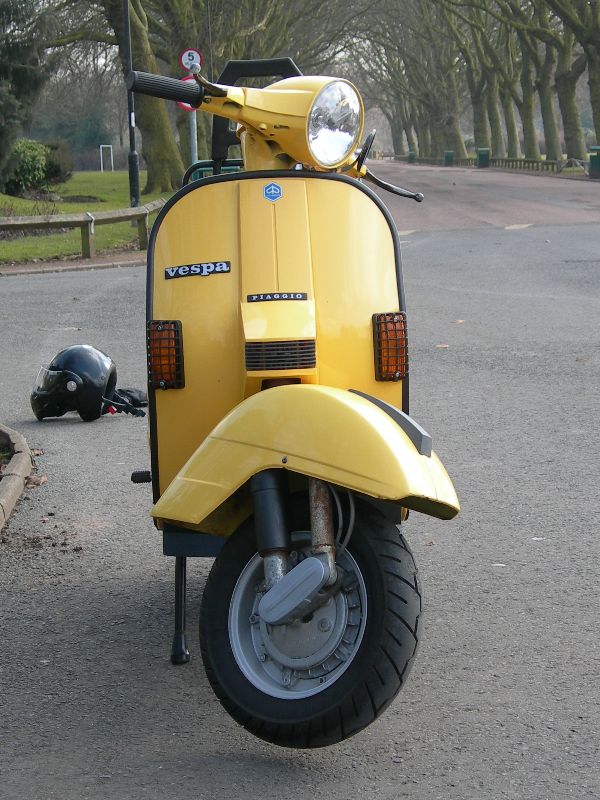 still on the look out for a black fork link cover...I may tidy those forks up too...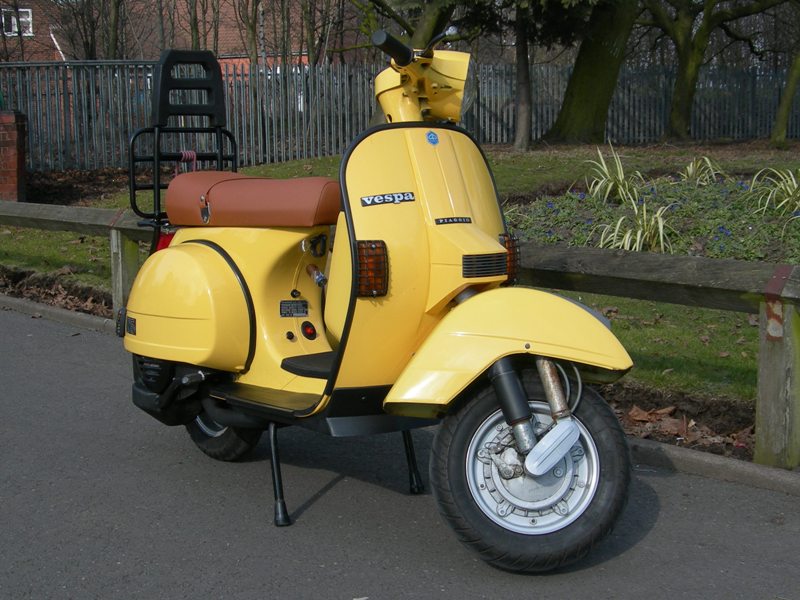 I quite fancied a yellow T5 when I bought the green PX200...having seen the finish on this almost original T5 I'm glad I bought the PX200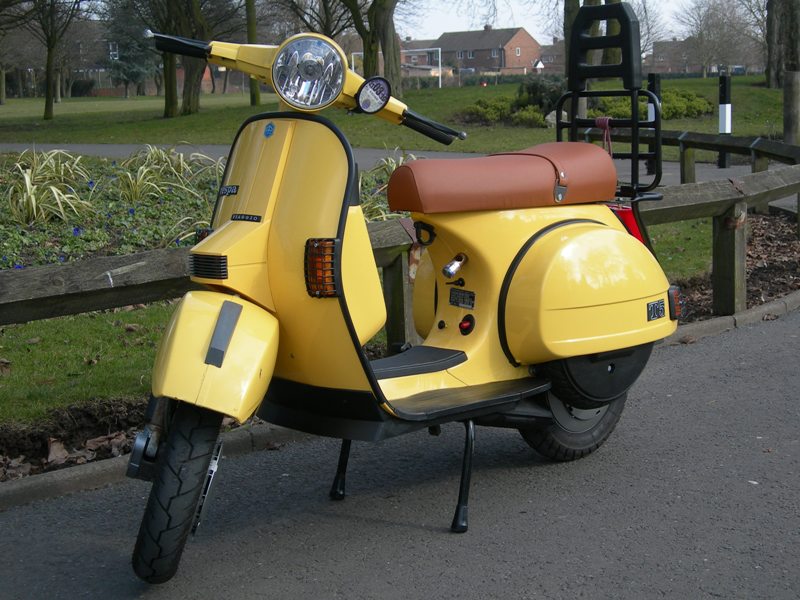 need to remove that steering lock clamp...people in the north must be very untrusting to have to fit a monstrosity like that!!..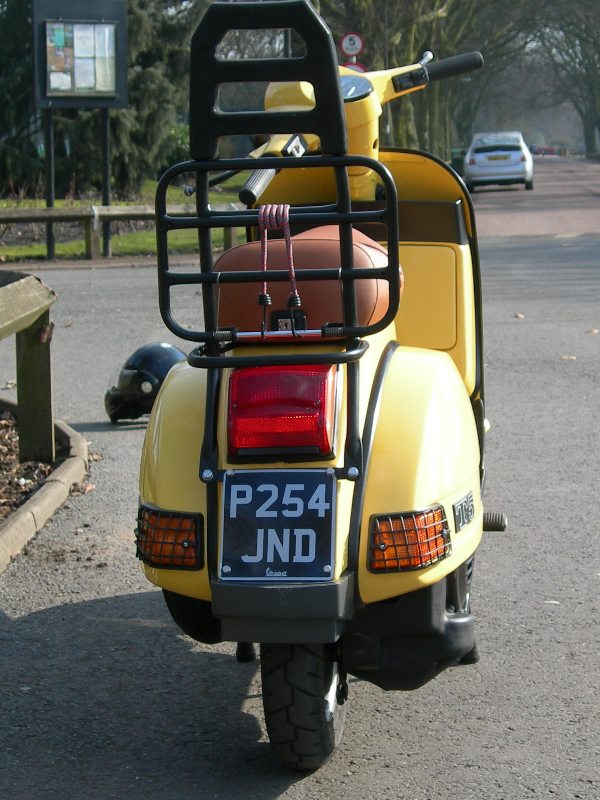 Blackburn registration number...the same 3 letters as the Cosa and sidecar we had...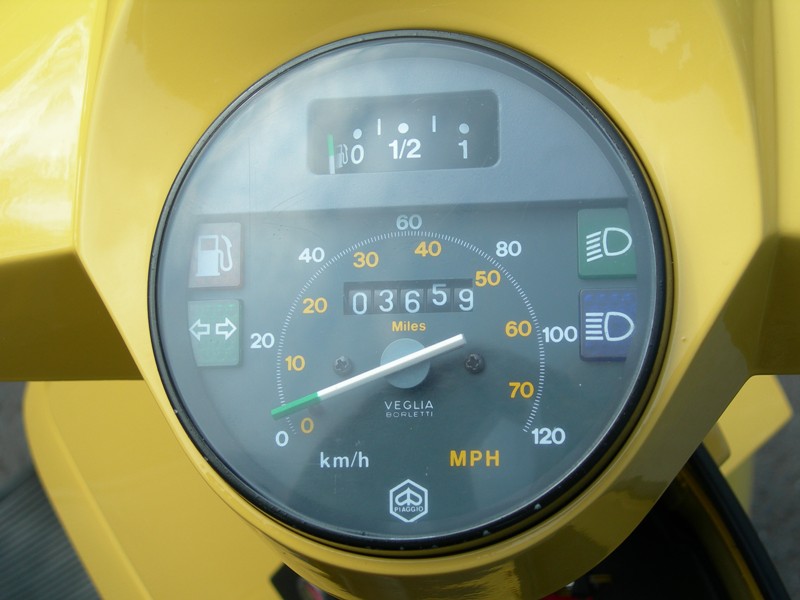 relatively low mileage...I have genuine reason to believe this could be right...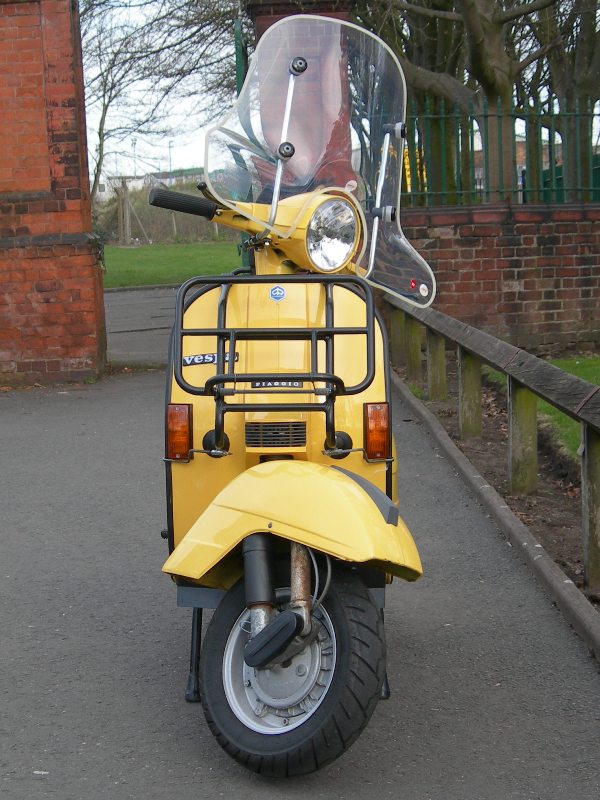 it just had to be done...I like flyscreens that keep the wind off your body...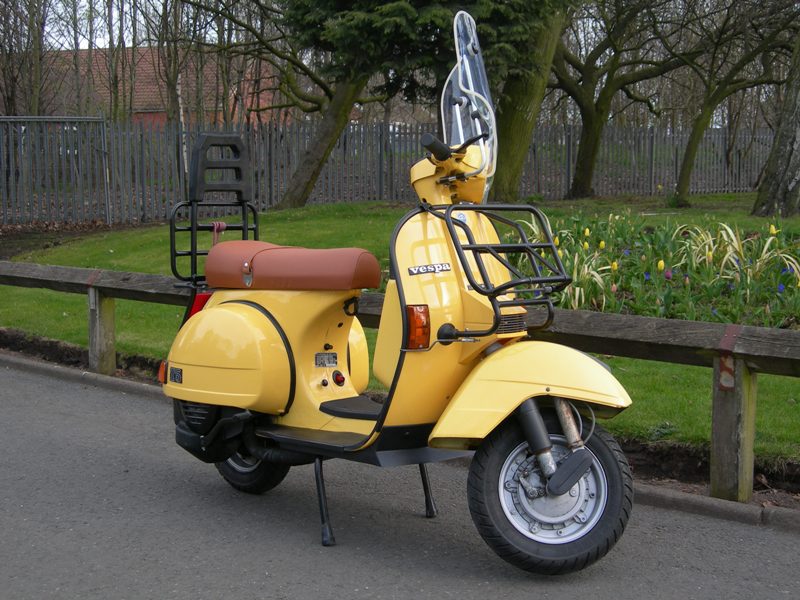 black fork link cover now fitted...took some locating...a big thanks to Kev Stannard...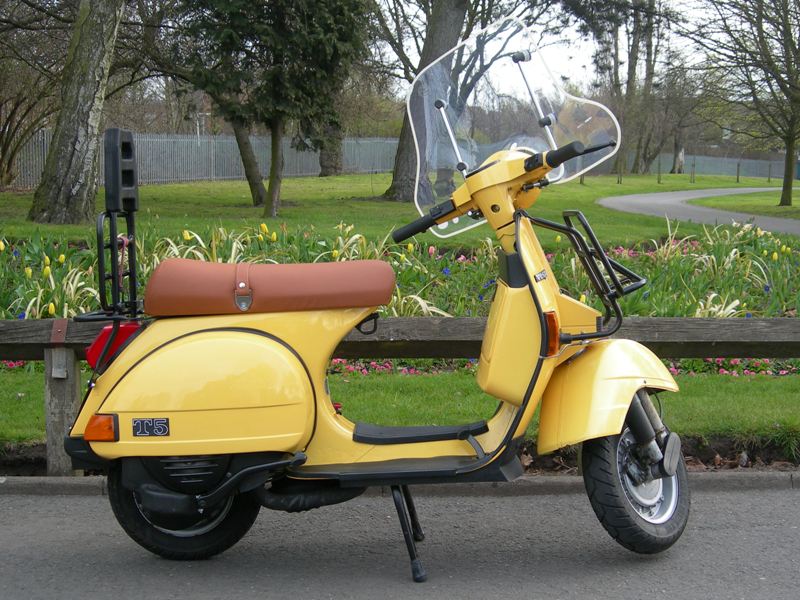 also found a genuine new ally kick-start lever at Kev Stannards...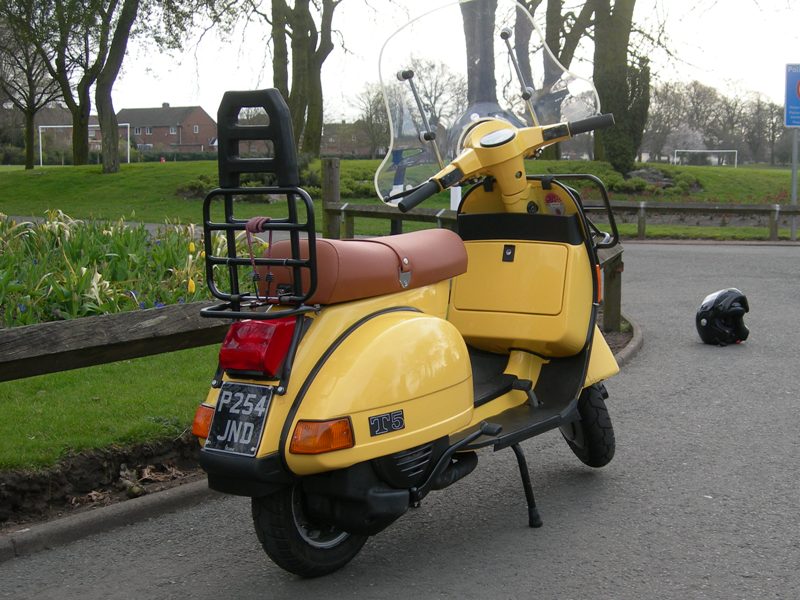 I was having a problem with the offside rear indicator...after close inspection and finding that both rear indicators had been butchered I replaced them with the indicators I had removed from my PX a few years ago...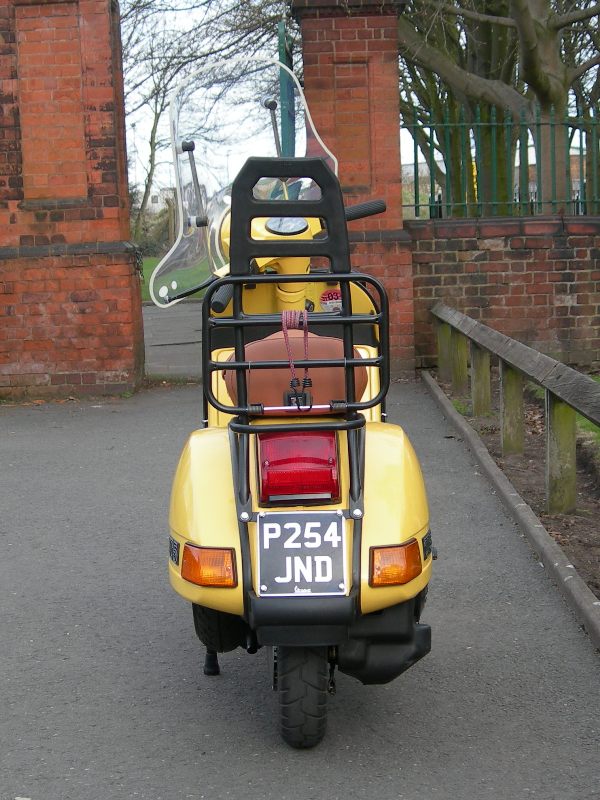 indicator covers are no longer present...I think it looks much tidier without them...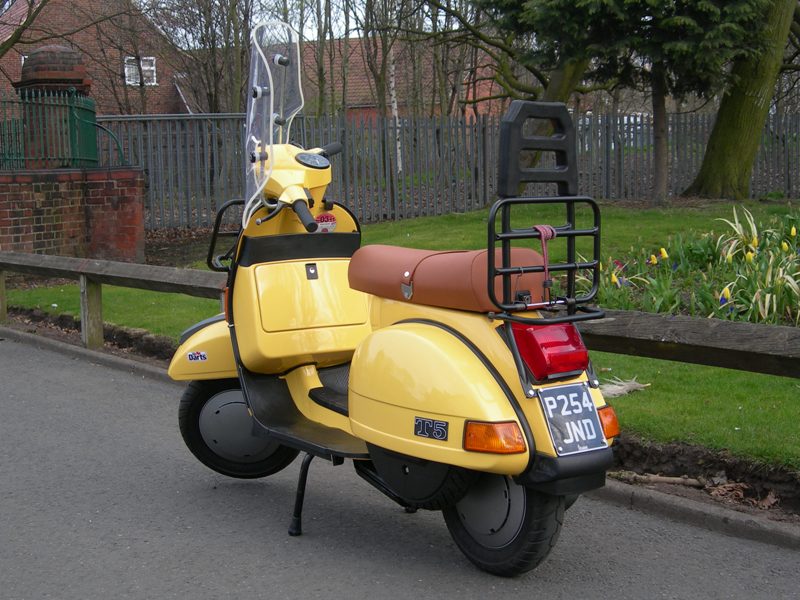 I still have to replace the clutch lever...the front brake lever I have done...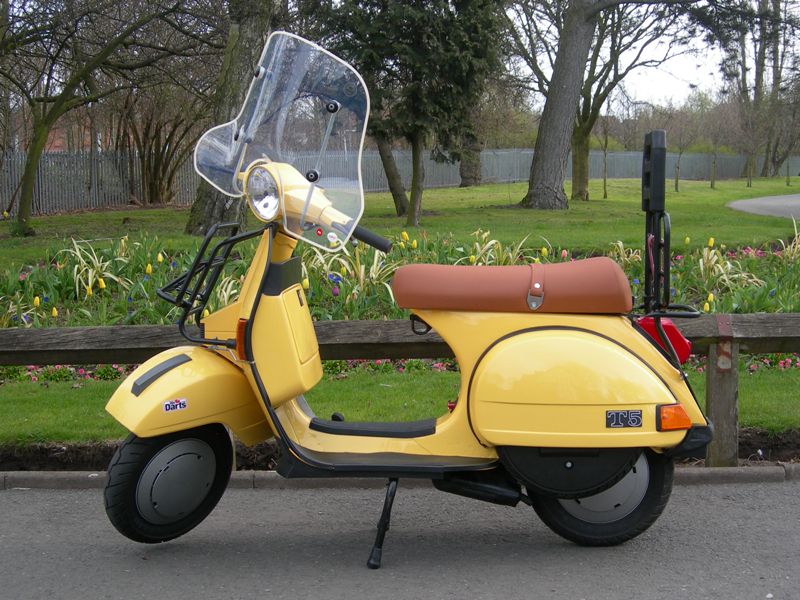 sticker on the mudguard is covering the scratch that you can see in the earlier pictures...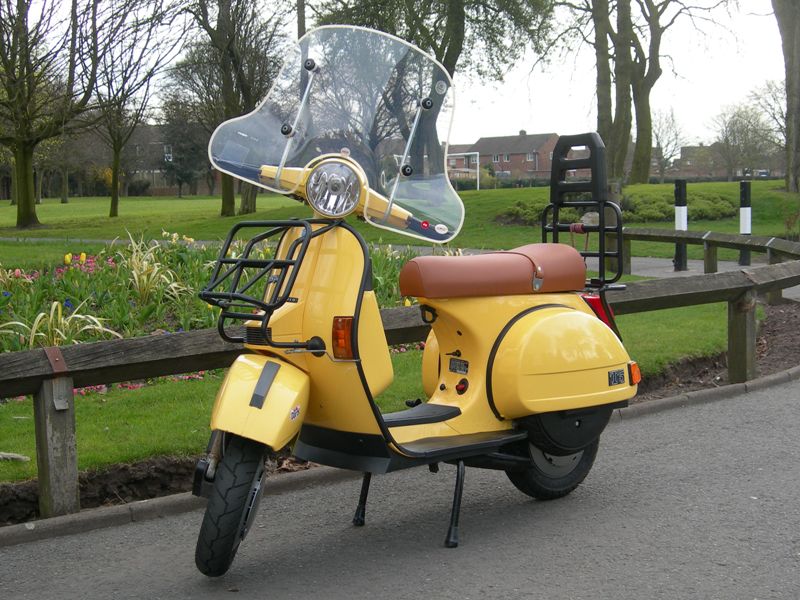 I've also fitted a new spoiler...the original one was split at the rear...although it wasn't too noticeable I thought what the hell...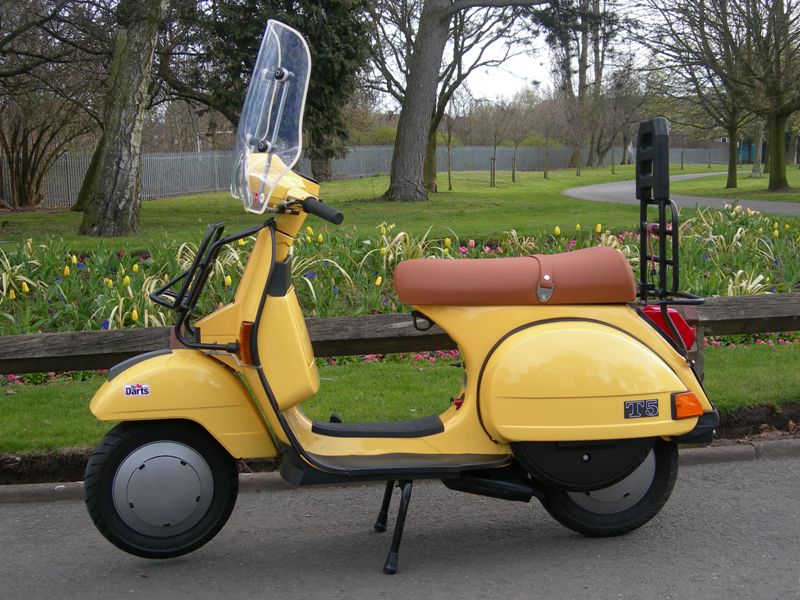 and just in case you haven't noticed that big ugly steering lock device near the fuel tap has been removed...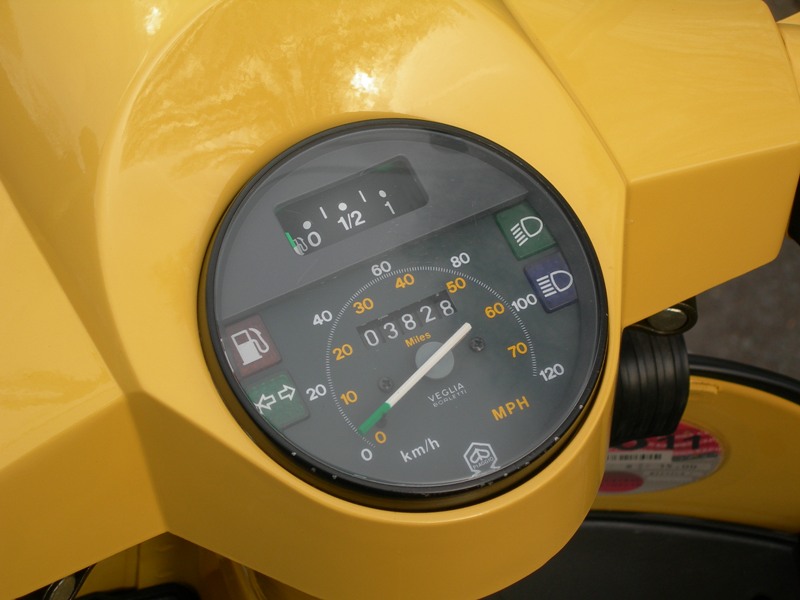 a couple of hundred miles since the last photo's...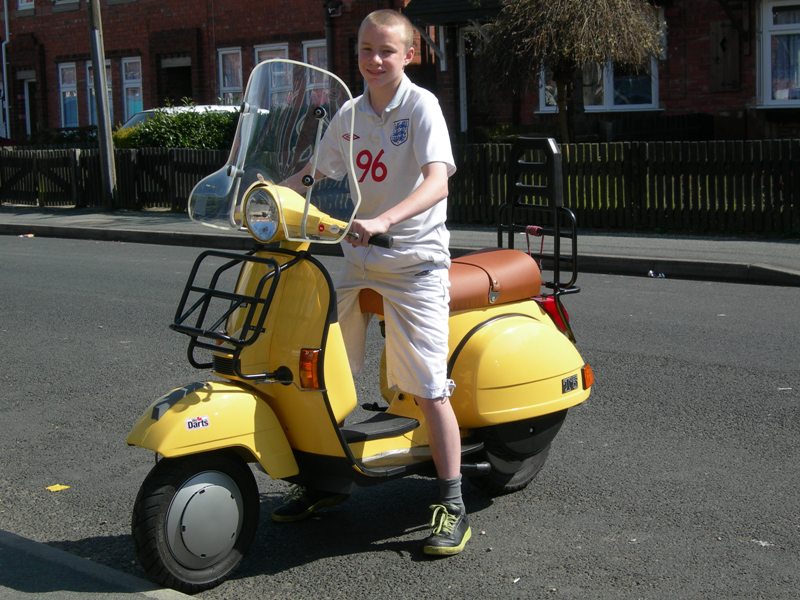 I know it says Marvin's T5 at the top of the page but it was bought for both lads to take their tests on...Jack (above) is two years younger than Marvin...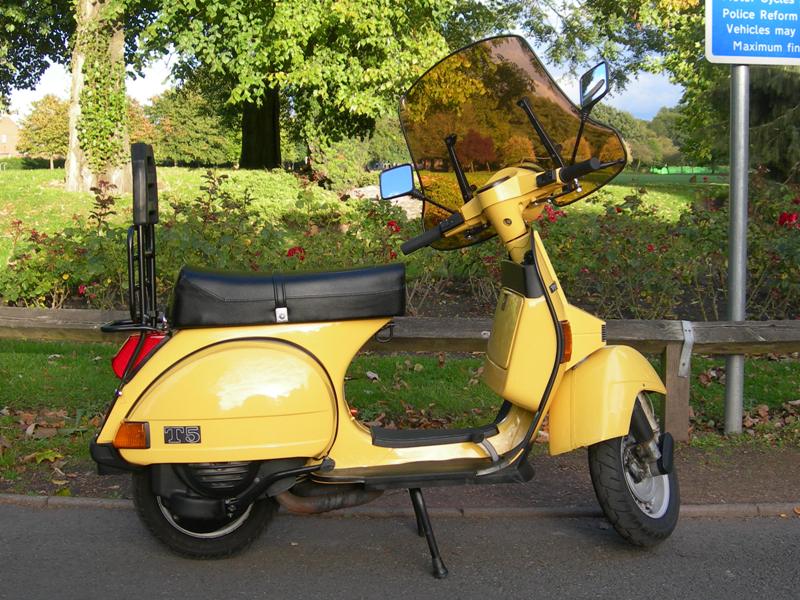 it's the end of the summer and time to get it down the park and get a few more shots done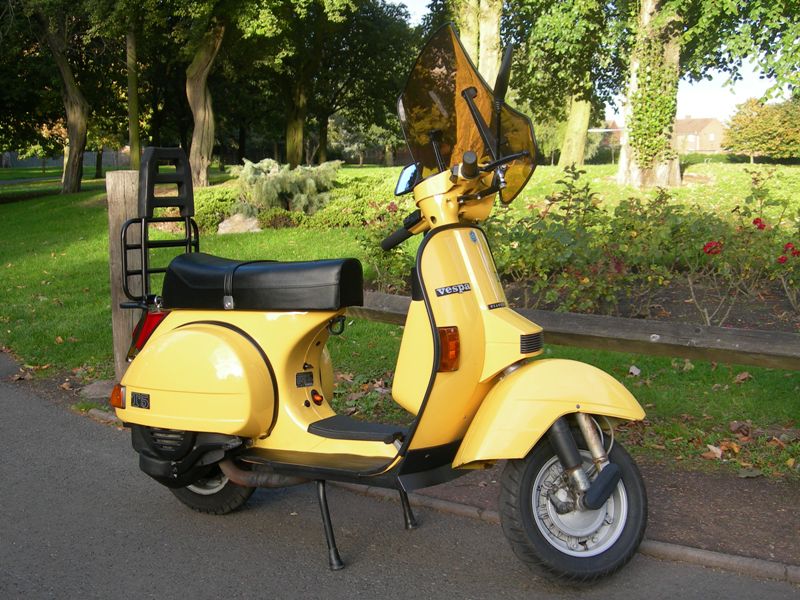 this may be the last bit of sunshine we see this year...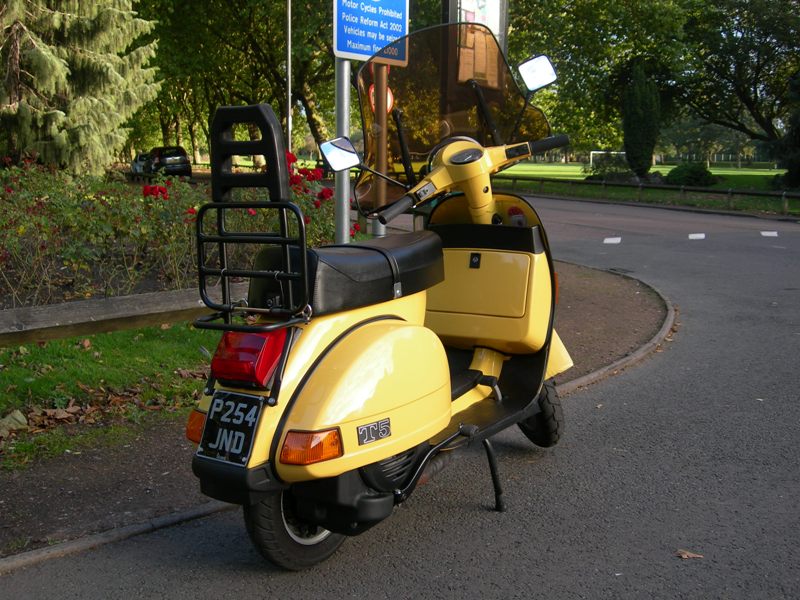 I've finally managed to locate a Vigano screen...the same as the one fitted to my PX...it has a couple of scratches but on the whole it's in quite good condition...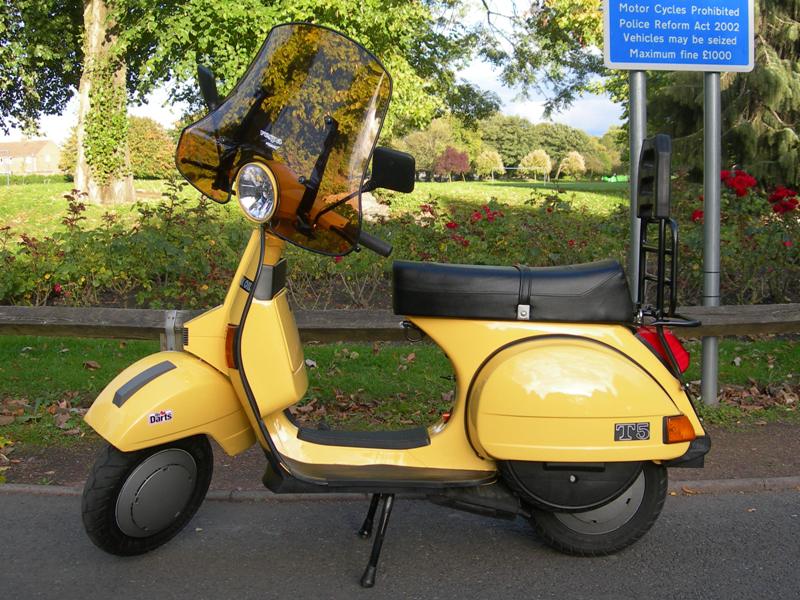 original seat looks good...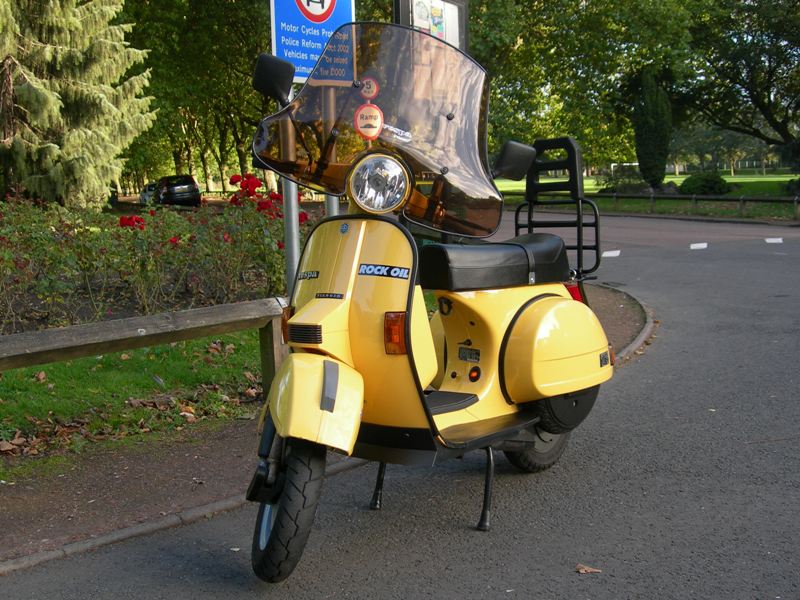 how good does the tint on that screen look!!..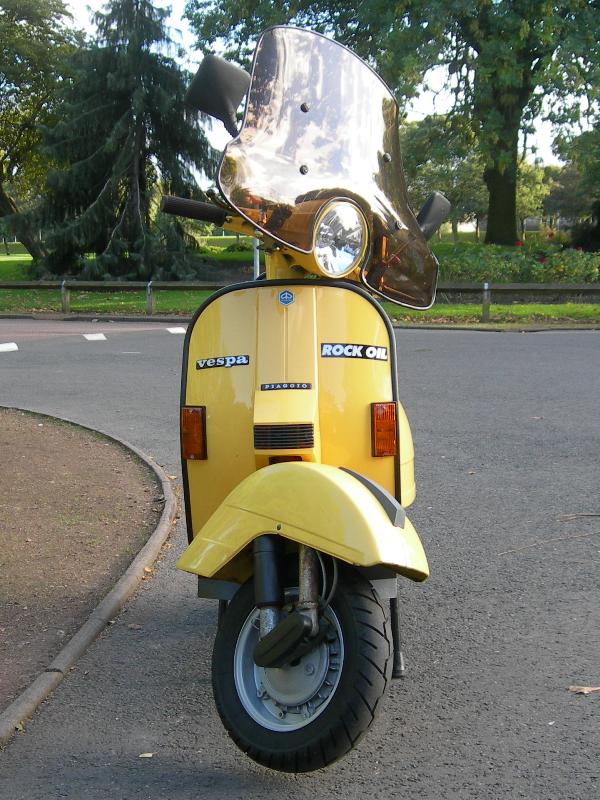 I have plans for the fork!!..it is the only item on this scooter that is now not near mint...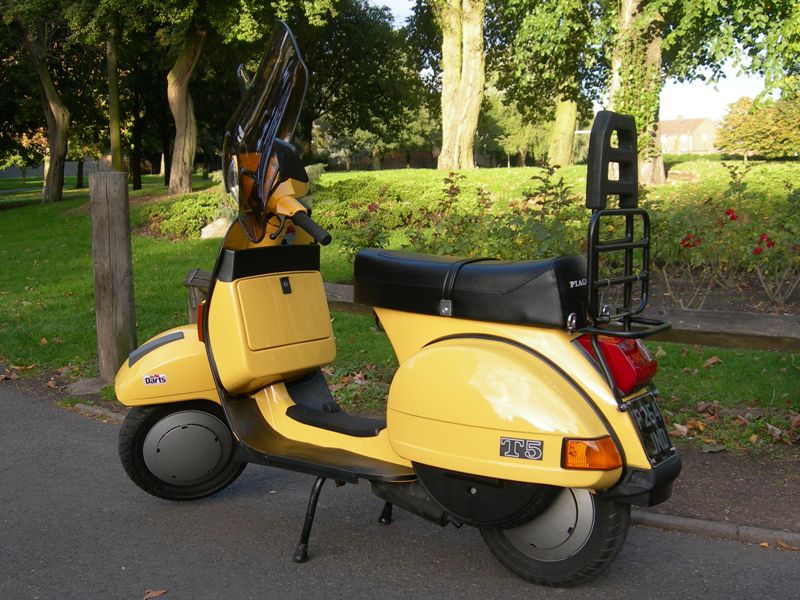 a new clutch lever has been fitted...this was done when I decided the clutch cable needed to be changed...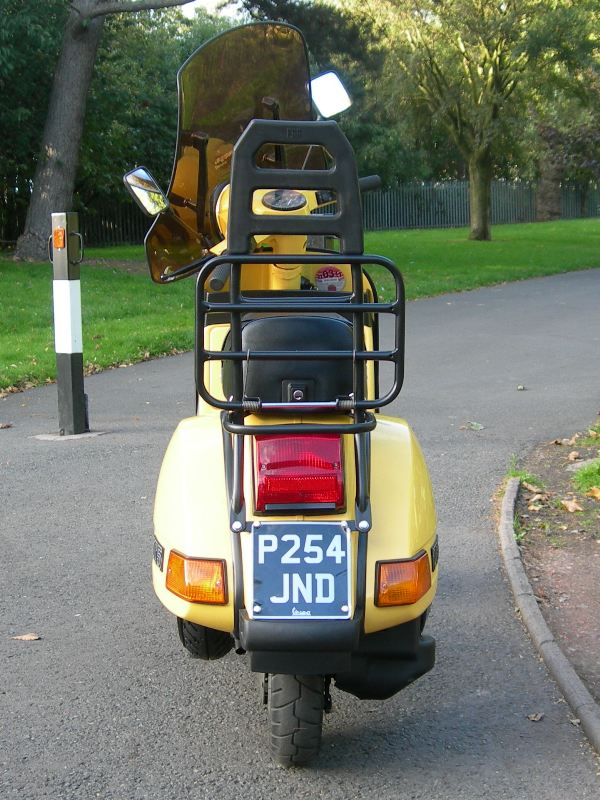 Marvin needs to have mirrors on it for his test...these are the originals from my green PX...he says that they look like elephants ears sticking out when he's following me!!..